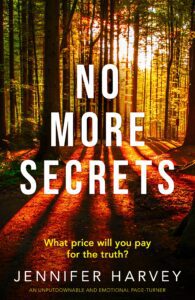 Twenty years ago, Evie's older brother Ethan confessed to a murder and went to prison. Now he is out and returns home on the death of his father, claiming his innocence. Evie struggles with her own emotions as well as the resentment of the local community. Can Ethan reveal secrets that prove his innocence?
The plot of No More Secrets is delivered in a range of timelines but mainly 1994 in the lead up to the murder, 1995 in the trial and 2015 as the present. The flashback chapters do not appear in a linear way so darts back and forth with the present. This feels a little disjointed to read but I think it is effective for representing the mental breakdown Evie has experienced.
Evie's confusion and the way her brain has blanked out the day of the murder makes it clear that her own mind is keeping secrets. However despite a number of suspicions, the true events are not revealed until the very end.
My sympathy was much more directed at Ethan than Evie as it become clears that he has been the scapegoat and accepted the prison sentence and harsh opinion of his friends and family. I wanted him to prove his innocence but feared that he was also keeping secrets which would prevent his exoneration.
The events of the book are intense and the family links between the main characters is a dynamic that is easy to identify with. The impetuous nature of teenagers was also very authentic which gave the plot and characters an added realism.
Overall, No More Secrets was an enjoyable psychological and family drama.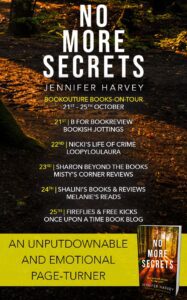 Media Kit:
Title:                   No More Secrets
Author:     Jennifer Harvey
Publication Day:  Oct 21st 2020
BUY LINKS:
Description:
No-one confesses to a murder they didn't commit, do they?
I haven't seen my brother for twenty years. Not since he killed the man I loved.
Now he's back.
I have imagined this scene a million times. What would he say to me?
But nothing could prepare me for this. What he's saying is impossible:
"I didn't do it."
He must be lying. Who confesses to a murder they didn't commit?
Everyone in our town wants him gone. Everyone's scared of him. Even me.
But maybe one of them is more scared of being found out…
And when I see something in his eyes that reminds me of everything we used to be, I realise I need to know the truth.
No matter what it costs me. No matter who wants to keep it hidden…
A dark, emotional story of a family left shattered by the legacy of a terrible crime and the question of how well we truly know the ones we love. Fans of Catherine McKenzie and Tracy Buchanan will be totally gripped by this haunting and compelling read.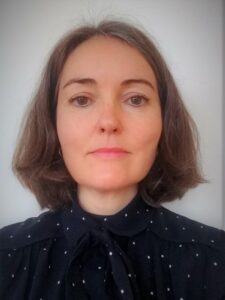 Author Bio:
Jennifer Harvey is a Scottish writer now living in The Netherlands.
She is the author of three novels.
Her short stories have been published in numerous literary magazines in the US and the UK, such as Bare Fiction, Litro Online, Carve Magazine, Folio, and The Lonely Crowd.
She has been shortlisted for various short story prizes including the Bristol Prize, the University of Sunderland Short Story Award and the Bridport Prize. Her radio dramas have won prizes and commendations from the BBC World Service. She has been longlisted twice for the Bath Novel Award.
Author Social Media Links: