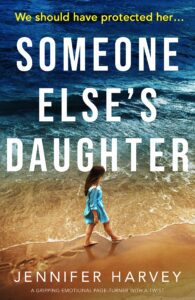 Louise and Peter take their friends' daughter Isa on vacation with them while Sarah and Willem try to repair their marriage. Isa seems like perfect company for their children Katie and James but they are unaware of the volatile relationships between the teenagers. At the final party of the summer, Isa drowns and the two families become locked in a bitter blame battle.
Someone Else's Daughter is an interesting 'what if' novel. I think it is easy to identify with all the perspectives as the reader is encouraged to consider what they would do in the same situation and what opportunities are missed to prevent tragedy. Looking after a friend's toddler for the afternoon is stressful enough for me so I'm worrying about adding hormones, alcohol and parties in the mix as well! Huge responsibility…
Isa is not a pleasant character, maybe a typical teen though? She is selfish, manipulative, vacillating in her affections. She uses her popularity with boys to get her own way, not caring who she hurts in the process. We only see her through the viewpoint of others, so again, this could skew our opiinon of her.
The book delivers the plot through a first person split narrative between Louise and her daughter Katie. This develops our sympathy with them as events unfold and secrets are hinted at throughout. Katie has a love-hate relationship with Isa: she want to emulate her whilst despising her cruelty. Louise and her husband are unaware of any tension which has also been overlooked by Isa's own parents.
I admit that I struggled with the structure of this book a little. Some chapters are short while others are quite long (one over 20 minutes!) which makes it difficult for me to read personally due to fitting around the kids and work etc. The mix of past and present was a little unsettling too. However, for a debut novel, I was impressed by the strong plot and confident writing style even if the latter was not quite to my taste.
The overall plot was intriguing and fascinating as it unfurled but I would have preferred a more linear structure. I felt that the family dynamics and teen angst were realistic which made the characters and their motivations and actions seem more believable. The drama at the end of Someone Else's Daughter as the truth is revealed to us is shocking as well as tragic.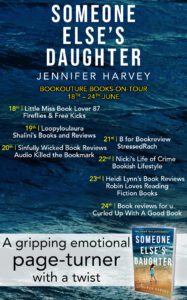 Media Kit:
Title:               Someone Else's Daughter
Author:          Jennifer Harvey
Publication Day:  June 18th 2020
BUY LINKS:
Description:
They'd left their daughter with us, their only child, and we hadn't protected her. That was all they would see when they looked at us—that we had failed them.
I count down the days until we can leave the city behind and return to the beach house. Where James and Katie can roam free over the dunes, like they did as children, and Peter will swap his 6 a.m. starts for the stacks of fluffy pancakes he lovingly serves up for our family breakfasts. These sun-drenched, golden days, just the four of us, are what I hold on to all year long.
But this summer Katie's best friend will be coming with us. I tell myself the girls will have fun together, pushing aside the doubts I have about this uninvited guest. Isa. With her corn-silk hair and luminous skin, who manages to overshadow my daughter at every turn. Who has been dumped on us by her own parents, too caught up in their petty dramas to see what is right in front of them.
Because I can see it. There is something dangerous about Isa. Something more than a carefree girl, testing boundaries as she approaches adulthood. She threatens to cast storm clouds across my beach house days. I feel as powerless to stop her as I would in the face of a hurricane.
By the end of the summer, Isa will be dead. And I will have to face her mother. I don't know if I will be able to find the words. How can I begin to explain that she never really knew her daughter at all?
A gripping story of the darkness than lurks beneath the surface of the most picture-perfect lives and the lengths we will go to protect the ones we love. Fans of Big Little Lies, Kerry Fisher and Diane Chamberlain will be held totally in thrall by this emotional, twisty read.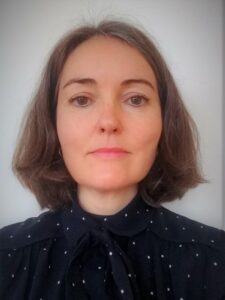 Author Bio:
Jennifer Harvey is a Scottish writer now living in The Netherlands.
She is the author of three novels.
Someone Else's Daughter will be published on June 18th 2020 with Bookouture.
Two more titles will follow in October 2020 and May 2021.
Her short stories have been published in numerous literary magazines in the US and the UK, such as Bare Fiction, Litro Online, Carve Magazine, Folio, and The Lonely Crowd.
She has been shortlisted for various short story prizes including the Bristol Prize, the University of Sunderland Short Story Award and the Bridport Prize. Her radio dramas have won prizes and commendations from the BBC World Service. She has been longlisted twice for the Bath Novel Award.
Author Social Media Links: