Looking for a light hearted, fun read? Look no further!
Tracy Bloom's latest book is actually a sequel but works perfectly well as a stand alone book.
We begin the story with an anxious groom worrying about whether sex needs to happen on the wedding night for the marriage to be legal. He even asks the registrar!
The groom's name is Braindead…
Then, during the reception, Braindead's groom speech does not go well: he tells the guests that his best man's wife Katy cheated on him with her ex at a school reunion.
That's bad enough but the ex in question is present at the wedding with his wife! Alison quickly works out that it is her husband and unsurprisingly storms out.
Their marriage is in tatters whilst Braindead is haunted with regret and can't fulfil his wedding night duties.
In the weeks that follow Katy is trying to cope with her gay best friend's wedding plans being derailed by the decision for a double wedding with his soon to be dad in law and bride who happens to be Katy's mum. Will the wedding work out or is sex off the menu for these couples too…?
The characters in this book are just great. They are down to earth and seem very real. Yes, their situation is extraordinary but I feel that they were naturally depicted and behaved as I would expect me and my friends to in similar circumstances.
I found myself laughing out loud, cringing in horror and thoroughly enjoying the book from cover to cover.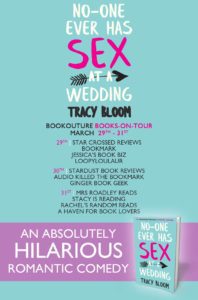 Book blurb:
In Katy's opinion, weddings should follow some basic rules:
1) No-one should ever have sex. Of course. The married couple has the rest of their lives for that, and the guests should be too busy partying.
2) If you are heavily pregnant (as Katy is) you should obviously not be invited to three weddings in the space of one summer. Your husband's accident-prone best friend, your attention-seeking colleague, your 73-year-old mother's marriage to her Spanish toy boy – all without even an alcoholic drink to make them bearable.
3) During the speeches, it should not be revealed that you had a secret one-night-stand with one of the other guests.
4) Instead of laying bets on the length of the best man's speech, guests should not be laying bets on whether a marriage will be in ruins before the end of the meal…
But this summer, Katy is lucky enough to be the special guest at the weddings that break ALL of the rules. What could possibly go wrong?
From the no. 1 bestselling author of No-one Ever Has Sex on a Tuesday, this book will make you laugh until you cry. Perfect for fans of Nick Spalding, Marian Keyes and Gill Sims.
Author Biography
Tracy started writing when her cruel, heartless husband ripped her away from her dream job shopping for rollercoasters for the UK's leading theme parks, to live in America with a brand new baby and no mates. In a cunning plan to avoid domestic duties and people who didn't understand her Derbyshire accent, she wrote her romantic comedy, NO-ONE EVER HAS SEX ON A TUESDAY. This debut novel went on to be successfully published internationally and became a #1 Best Seller.