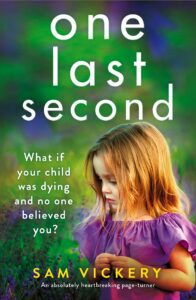 TRIGGER WARNING: this novel deals with child illness, mental health and eating disorders
Every parent's nightmare. A sick child. Tilly has been accused of being a fussy eater but now she is repeatedly vomiting and hospitalised. Her mother Maddie is convinced there is something seriously wrong with her, but Adam is adamant the symptoms are psychosomatic. The medical staff even begin to suspect that Maddie could be harming her daughter…
The plot is delivered through two timelines and two narratives, Maddie and her best friend Laura in the past and present. Tilly has been ill for a long time and Laura, a GP, was not able to diagnose her and it was getting in the way of her friendship with Maddie. Laura has always secretly been in love with Adam so this adds an extra dynamic to the plot and character relationships.
One Last Second was such an emotive book. I honestly had no idea whether to believe Maddie or if her mental health issues could be resulting in Tilly's illness. It was very easy to see both viewpoints and I could easily understand Adam's doubts and frustrations. Parenting is very tricky and getting the balance right is too! I worry about making too much fuss and being labelled as an overbearing mother, but also making too little fuss and being seen as almost neglectful.
I understand that social services are over pressured and have the best intentions but the majority of parents know and care for their child. Yet when two parents differ in their viewpoint and Adam genuinely hasn't seen Tilly being so ill, it is natural that concerns are raised so the plot was convincing.
Overall, One Last Second was a gripping and heartbreaking book, often uncomfortable to read due to the depth of emotions it inspired in me as a mother.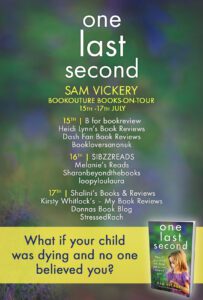 One Last Second book description:
I never expected to be doubted, but if I can't make them believe me, what then? I sit here beside her stroking her tiny hands as she sleeps and she looks so perfect. It never crossed my mind that something would be wrong with my sweet girl and I'd be powerless to do anything to help her.
When Madeline's six-year-old daughter Tilly collapses one Sunday night, Madeline's world is turned upside down. Racing to the hospital, she imagines the worst scenarios in her mind, but when they arrive the doctors say that Tilly is fine.
Madeline's ex-husband Adam and her best friend Laura think Madeline is being overprotective, that Tilly fainted because of her fussy eating. But Madeline is sure something is seriously wrong with Tilly. She can feel it. And she believes that a mother's instinct is never wrong.
As Madeline embarks on a desperate journey to have Tilly re-diagnosed, taking her in and out of hospital, Adam and Laura begin to wonder if Tilly would be safer in Adam's care. Madeline just wants to keep her daughter safe, but the harder she pushes the closer she comes to losing her…
One Last Second is an emotional reminder of just how far a mother will go to protect her child. Readers of Jodi Picoult, Diane Chamberlain and Kate Hewitt will never be able to forget this heartbreaking and beautiful story.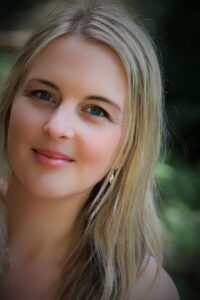 Author Bio:
Sam Vickery is an English author who loves gritty, emotional stories that can make you sob. As a child, she was forever getting in trouble for being caught with her nose in a book, and these days are no different. She lives on the south coast of England with her husband, two children and a cat that thinks it's a dog.
Buy Links: