TRIGGER WARNING: rape
1944, a secret plot to kill Eisenhower and Churchill. Their only chance of survival depends on a small band of spies. But Juliette's focus may be threatened by fear when her children are kidnapped…
Paris At First Light is the second book in a WW2 series about the Resistance. There are mentions of events and outsomes from the previous book, The Silence Before Dawn, so I would advise reading the books in order to avoid spoilers.
Most of the book is written from Juliette's first person perspective so we see her passion and determination. She has fallen in love with her fellow spy but her violent ex threatens her happiness when he steals her children.
We also see the viewpoints of the other spies as they attempt to thwart the assassination plot. It really is the extraordinary strength of four women that underpins the plot and I loved their subversion and undermining of traditional social norms.
There is violence in this book and danger is never very far away. Juliette never shies away from action and is prepared to kill when required. The plot races along at quite a pace and there is plenty of action. Passion and personal power play contrast with the international politics of WW2.
Paris At First Light is a fast moving and intense historical novel.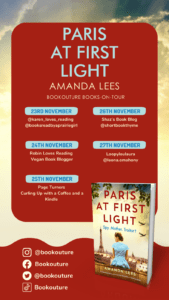 Media Pack
Author:     AMANDA LEES
Book:      PARIS AT FIRST LIGHT
Publication Day:  NOVEMBER 23RD 2022
Buy link(s)
Audible:
Description:
Paris, 1944

: 

secret agent Juliette is on her most dangerous mission of the war so far. But then her children are kidnapped, and to get them back she may have to commit the ultimate betrayal – that of France itself…
Four years ago, when France fell to the Nazis, 
Juliette

 made the ultimate sacrifice, leaving behind her two precious children to join the Resistance and defend her country. Now a spy in Paris, she must work with 

Captain

 

Daniel Diaz

 – an American agent she's taken an instant dislike to – on a dangerous mission to uncover a deadly Nazi plot.
As the pair play their parts, Juliette begins to see another side to Daniel, and their feelings for each other start to grow. But just as love blossoms, Juliette receives a ransom note that changes everything. Someone in Paris knows who she is. And they've kidnapped her little son and daughter. The message is clear: 
betray your country, or you'll never see your children alive again

.
Juliette has sworn a sacred oath to save France at all costs, but she could never sacrifice her children. So, against all the odds, she decides to attempt the impossible: rescue her children 
and

 continue her dangerous work fighting the Nazi threat.
But as the mission forces Juliette and Daniel to the very brink, will they succeed on all fronts? And if not, will France pay the ultimate price, or will Juliette?
A completely gripping and heart-wrenching historical novel about hope, betrayal and one mother's limitless courage. Perfect for fans of 
The Alice Network
, 
The Nightingale
 and 
My Name is Eva
, this epic story will leave you breathless.

Author Bio:
Amanda was born in Hong Kong and survived both a convent boarding school and a Jesuit boys' school before being summarily ejected from the latter. She gets her thirst for adventure from her parents who met in the jungle in Borneo where her mother had set up a hospital and her father, a former Gurkha Intelligence officer and Oxford-educated spy, was probably up to no good.
She is the author of the bestselling satirical novels Selling Out and Secret Admirer (published by Pan) which have both received critical acclaim and have been translated into several languages. Her major YA thriller trilogy, Kumari, Goddess of Gotham, was written as a tribute to her mum, who died a couple of months before Amanda got the idea for a series which would reflect her own exotic childhood. Kumari was nominated for the Guardian Children's Book Prize and the Doncaster Book Award. It featured as Redhouse Book Of The Month and Lovereading4kids Book Of The Month.
A broadcaster as well as an actress and novelist, Amanda appears regularly on BBC radio and LBC and was a contracted writer to the hit series Weekending on Radio 4. She researched and edited the leading directory for banks, The Banker's Almanac, for Euromoney publications while also covering stories of shady dealings in the City for them. She has written for, or contributed to, The Evening Standard, The Times, New Woman, US Cosmopolitan, Bulgaria's Vagabond and Company Magazine as well as numerous online publications and has two non-fiction books published under a pen name.
Amanda has conducted a love coaching phone-in from the sofa of Richard & Judy and wooed the viewers on Channel 5 Live. She won an award at the Hungarian Gyor Film Festival for a short film she produced, a psychological thriller called Pros and Cons.
Her book, From Aconite to the Zodiac Killer: The Dictionary of Crime, was published by Robinson/Little Brown in July 2020 to excellent reviews. It was published in the US by Ulysses Press in May 2021. She has just completed the first in a romantic thriller series set at the end of WW2.
Author Social Media Links
Website: amandalees.com