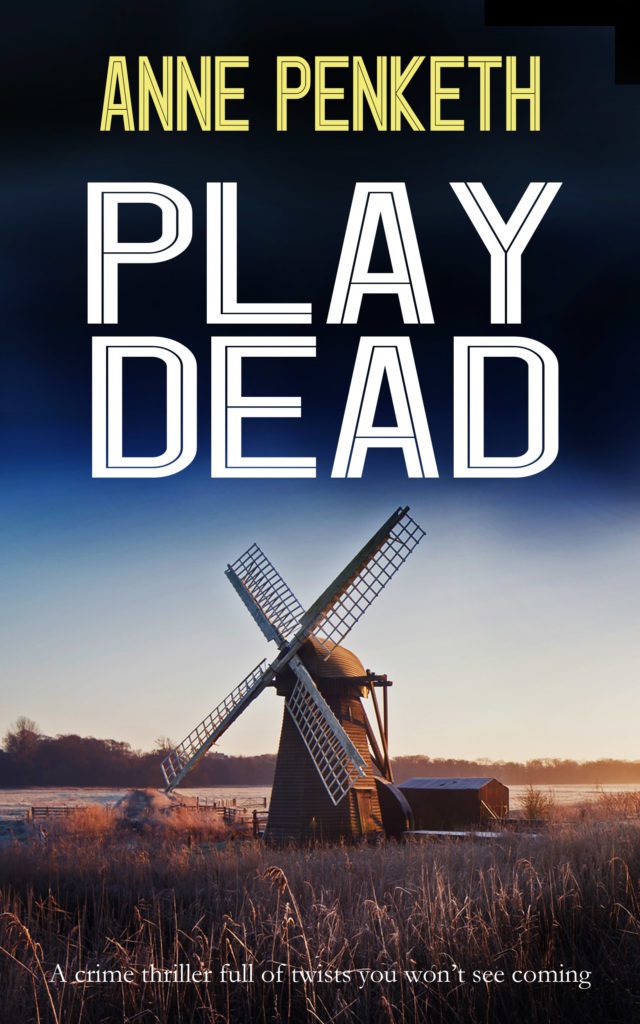 I am absolutely thrilled to have added a new author to my bookshelf! I didn't find out until the end that this was actually the third in the series of DI Sam Clayton books. It works perfectly as a standalone but now I am intrigued as to what I missed (off to hunt for them…)
A woman is discovered murdered, impaled by her cello. Other members of the orchestra are targeted and an accidental death in the recent past is revealed to be murder too.
Musical politics are at the centre of the case that Clayton and his team need to investigate. There is also a personal worry as Clayton's girlfriend is in the choir associated with the orchestra…
Play Dead was an excellent police procedural novel. The police team is at the heart of the book and their investigation takes place before our eyes. There is humour and banter as you would expect from a team and this gives a degree of realism without the hierarchical tensions that are often rife in police books.
The police characters are well developed and author Anne Penketh has made Clayton is particularly easy to like. The suspects are all acting suspiciously so I had no idea who was responsible for the murders. All of the investigation loose ends are tied up by the end of the book whcih I personally find more satisfying than open ended novels.
There is plenty of scope for more books as Clayton's personal life has unfinished threads and Norwich is a big place, lots of potential crimes!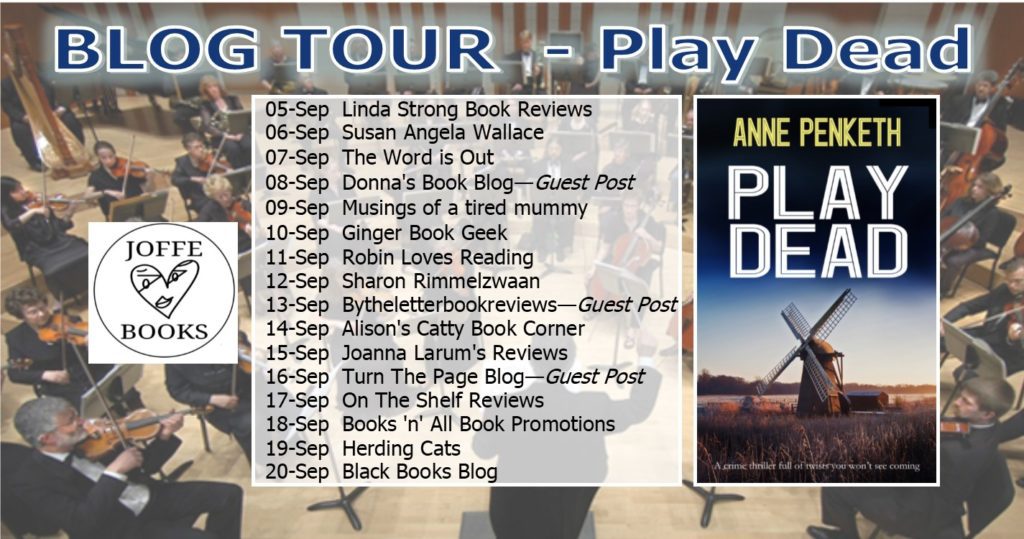 Play Dead (Detective Sam Clayton #3) by Anne Penketh
A SLEEPY ENGLISH CITY IS ROCKED BY A SERIES OF MURDERS TARGETING MEMBERS OF THE LOCAL ORCHESTRA.
WHO IS KILLING OFF MUSICIANS WITH THEIR OWN INSTRUMENTS?
Detective Inspector Sam Clayton is called in to investigate three victims with ties to the Norfolk Festival Orchestra.
Musician Kristina Manning is impaled by her cello spike.
The disgraced conductor is found with his head stuffed into a piano. He's on the brink of death.
A trumpeter dies, poisoned by his mouthpiece.
Will Clayton's new girlfriend, Melissa, a singer in the NFO, be next on the murderer's list?
Is there a serial killer with a musical edge on the loose? And what does the disappearance of former orchestra member Lauren Garner have to do with it?
A MYSTERY WITH A STUNNING TWIST AND A RACE AGAINST TIME TO STOP A MURDER SPREE
PLAY DEAD is the third in a new series of page-turning crime thrillers set in an atmospheric part of Norfolk. Perfect for fans of LJ Ross, Mel Sherratt, Colin Dexter, or Ruth Rendell.
What readers are saying about ANNE PENKETH
"Five out of five stars!" Michelle K
"I had a hard job putting this one down as it had me fully engaged and wanting more." Dawn J
"This book was brilliant from start to finish, it was totally gripping from the first page. I read this book in one sitting, it was so good I didn't want to put it down." Lynn G
"Great book to read on holiday with a satisfyingly twisting storyline." CH
"A real page turner." Barb D
"It had many twists which kept me guessing. I would never have worked out the ending." Shamiela A
"Riveting read." Penny B
"Sam Clayton is not your average hard-boiled detective. He has problems of his own as he sets out to find a serial killer." Meg B
THE TEAM
Detective Inspector Sam Clayton leads the investigation into the North Norfolk murders, joined the police straight from school as a beat bobby in Manchester before rising through the ranks of the CID. He was transferred to Norwich after being promoted to DI following a high-profile case investigated by Lancashire Constabulary.
Detective Sergeant Julie Everett is an intuitive officer who was promoted to detective sergeant from her home town of Ipswich where she had a background in child protection. She is discreet about her personal life among colleagues, particularly about the tragedy which haunts her. She has to deal with a high-pressure job while raising her child who moved with her to Norwich.
ALSO BY ANNE PENKETH
THE DI SAM CLAYTON SERIES
Book 1: MURDER ON THE MARSH
Book 2: THE BAD SISTER
Book 3: PLAY DEAD
Anne Penketh – Author Bio
I'm a Lancashire lass but for most of my career, I've been a foreign correspondent. I've reported from all over the world on some of the most cataclysmic events of our time, including the Egyptian revolution and the collapse of the Berlin wall.
While in London I was diplomatic editor of The Independent, but these days I'm based in Paris and concentrating on fiction writing. The third in a series of crime novels featuring Detective Inspector Sam Clayton, Play Dead, is out now. My first novel, Food Fight, was published in 2015.
I've reported from Paris mainly for The Independent and The Guardian, but I also contributed to France24 television and Monocle radio.  As a freelancer, I've written for The New Zealand Herald and The National (Abu Dhabi), as well as the LA Times, the New York Times, the Radio Times, the Oldie, Monocle magazine, Quartz, and Spark News.
Between 2009 and 2012, I headed the Washington office of the British American Security Information Council (BASIC), a trans-Atlantic NGO focused on nuclear disarmament.
During my ten-year stint on The Independent I was one of the few journalists to report from Iran, North Korea and Saudi Arabia.
Earlier, I was a staff foreign correspondent with the French news agency, AFP, which posted me to Moscow during the incredible Gorbachev years. I also reported for AFP from France, and New York where I covered the United Nations.
I started my journalistic career in Canada, arriving with two suitcases to seek my fortune in Montreal, from where I reported for British newspapers before getting a job on the Montreal Gazette.
Before that, I was a postgraduate student at University College London whose French department nurtured my lifelong love of French literature and culture.
LINKS