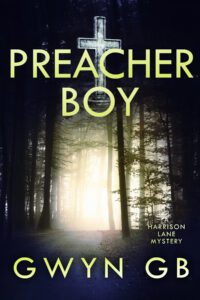 TRIGGER WARNING; this book includes child abduction and murder
A young boy is found dead and displayed in a way that suggests a ritual or Satanic influence. The police call in Dr Harrison Lane to help with their investigation. Another boy is abducted: can Dr Lane's insights help to find him before another murder ensues…?
Preacher Boy is the first book in a new series. It features Dr Harrison Lane and the police team he works with. There are three characters that stand out for me and we are thoroughly introduced to them in this opening book.
Dr Harrison Lane has a dark past. He is facing his own demons in the form of an upheaval during his childhood, the death of his mother and the flashbacks which haunt him. His background also gives him extra skills and insights which help him advance the investigation.
Police officers Sandra Barker and Jack Salter have contrasting personal lives. Sandra is married to the job, rarely seeing her family due to long hours. Her addiction to chocolate gives her a human balance against the authority figure she presents. Jack has a newborn baby and a wife with postnatal depression. He is struggling to focus on his work due to his fears of what may be happening at home.
The case itself is quite nasty and deeply emotive. There are forensic details that are grisly but these relate to an adult body (thankfully?!) The personal dimension to the main characters counteracts the atrocities they investigate. It also serves to make us care about their wellbeing as the action ramps up towards the end of the book.
Preacher Boy is a fab start to a new series and I look forward to seeing where the author takes the characters in the next book.
Preacher Boy – first in the Dr Harrison Lane series
IT'S TIME FOR A NEW CRIME MYSTERY HERO
Dr Harrison Lane is everything you wouldn't expect from a man with a psychology doctorate. For victims, he's everything they need.
They look, but they don't see…
As Head of the Metropolitan Police's Ritualistic Behavioural Crimes Unit, Dr Harrison Lane knows his Voodoo from his Aum Shinrikyo and a Satanist from a Shaman.
Harrison had an unusual childhood, raised by a bohemian mother and one of the native American Shadow Wolves – the elite tracking squad that works with US Drug enforcers. After his mother's murder, he dedicated his life to tracking down those who hide behind spiritualism and religion to do evil.
Following the discovery of a missing boy's body in what looks like a Satanic killing, Harrison is called in to help detectives. When a second boy is snatched, it becomes a race against time to save him, and sees Harrison come face-to-face with some dark secrets from his own childhood.
Preacher Boy is the first book in a gripping new crime mystery series from Amazon Top 20 bestselling author, Gwyn GB. Perfect for fans of LJ Ross, JD Kirk, J.R. Ellis, J M Dalgliesh, Rachel Abbott, Joy Ellis and David Blake.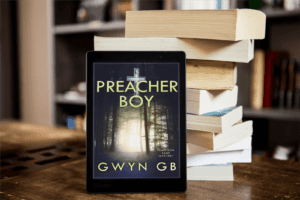 Purchase Links

Author Bio –
Gwyn is an Amazon Top 20 bestselling author. She's a former UK national TV newscaster and presenter, and journalist for national newspapers and magazines. Gwyn became a journalist and has finally realised her dream of being a full-time fiction author. Born in the UK, Gwyn now lives in the Channel Islands with her family, including a rescue dog and 17-year-old goldfish.
Gwyn launched her debut novel, Islands as Gwyn Garfield-Bennett in 2016, the romantic suspense book rose quickly into the Amazon top 20. Her first crime mystery series, featuring DI Falle, launched with Lonely Hearts in 2017.
You can find out more about Gwyn at www.gwyngb.com
Or on social media: