Jane, Carly and Rose are the daughters of Alec Savage, a hard man from Glasgow now struck down with Parkinson's. Jane has relinquished control of the Bitches gang to care for her family and Carly has been dumped by her prisoner boyfriend Cole while Rose is still at school. Now Cole is out of prison and his loyalties are divided…
Savage Sisters is a gritty gangland thriller.
Cole Alexander has just been released from prison and is keen to reignite his relationship with Carly Savage but their families are feuding. There are plenty of twists as Carly struggles to decide who she can trust, has to adapt to chaging relationships, and there are twists right up until the final page.
Carly and her sisters have an emotional side as they cope with their father's illness. They are devoted daughters and easy to like despite their violent side. Carly has mixed emotions about Cole's release from prison and the arrival of her uncle and cousins. She wonders who she can trust, and as readers, we aren't sure either which adds to the tension and anticipation.
 There is plenty of swearing and violence as you would expect from this genre of book. The characters revel in violence but the one torture scene is not particularly graphic as it focusses on Carly and Dean's emotional reaction to it. The book is written in the third person throughout so we see various perspectives to understand various viewpoints and gain a greater knowledge of a range of characters.
Savage Sisters is very entertaining but not for the faint hearted.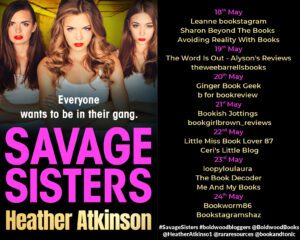 Savage Sisters
Jane, Carly and Rose Savage are savage by name, savage by nature.
Having lost their mum too young, and with a bedridden father too ill to work, the sisters learnt early to stand on their own two feet. The family's flat in the rough streets of Glasgow's Haghill is their fortress, but when Carly's ex-boyfriend Cole Alexander is released from prison, trouble soon comes knocking at their door. The Alexanders have beef with the Savages, so the girls call for back up in the shape of their uncle Eddie and his two gorgeous but dangerous sons, Harry and Dean.
As a turf war breaks out, the Savage sisters have choices to make. Stick to the straight and narrow or fight for what they deserve? And when the vicious girl gang Jane used to lead, the Unbeatable Bitches, are thrown into the mix, their minds might be made up for them. Because once a Savage always a Savage, and when the chips are down, there's no one more deadly than a Savage sister.

Author Bio –
Heather Atkinson is the author of over fifty books – predominantly in the crime fiction genre.  Although Lancashire born and bred she now lives with her family, including twin teenage daughters, on the beautiful west coast of Scotland.  Her gangland series for Boldwood, set on the fictional Gallowburn estate in Glasgow begins with the title Blood Brothers.

Social Media Links –