This is a spectacular psychological thriller!
Valerie Keogh introduces us to Ellie and Will whose lives are devastated when they find out that Ellie cannot have children. At the same time, she receives notification that the sheltered housing her twin sister lives in is closing down.
Tia goes to live with the couple but Ellie struggles from the start. She always played second fiddle to her twin whilst growing up and resented the love and attention Tia got as a result of her learning disability.
Ellie suspects that Tia is more able than she appears and is eager for her to find new accommodation. Is she right and does Tia have other ideas about the future?
There are some MAJOR plot twists that I want to share but don't want to spoil the surprise for you!
Ellie's emotions are laid bare in the book and it is quite heartbreaking to see her distress at being unable to become a mother whilst coping with the responsibility of caring for her sister.
This is a fascinating book to read although I was expecting the final twist at the end. Twins are captivating to us as a society. I can appreciate a little of the frustration of identity confusion: at my wedding the photographer thought my sister was me!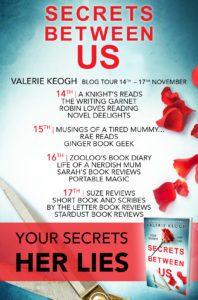 Title:          Secrets Between Us   
Author:     Valerie Keogh   
PUBLICATION DAY: November 14th 2018
Buy Links:
Description:
One letter a week for fifteen years. 780 identical white envelopes brimming with my sister's darkest secrets. All the intimate details of a life as different to mine as could possibly be.
I read each letter slowly to make sure I understand it perfectly, one day very soon it will be a matter of life and death…
At the end of each letter, after signing her name, there is always one final sentence:
Don't forget to burn this letter.
I'll let you decide if I do…
A jaw-dropping psychological thriller that you will read in one sitting. If you loved dark, twisty thrillers like The Girl on The Train, The Couple Next Door and Friend Request, this unputdownable novel will have your heart racing long after you've finished reading.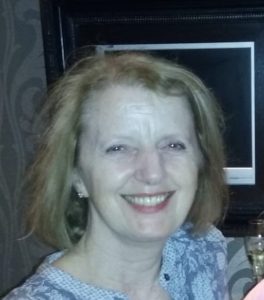 Author Bio:
Valerie Keogh grew up reading Agatha Christie so when she started writing it seemed natural to write crime novels. She writes two different series, one based in Ireland featuring Garda Sergeant Mike West and a grittier one based in the UK featuring Nicola Connolly, a serial killer.
The Garda West series: THAT ONE MAY SMILE, CLOSE RANKS, MURDER ON CLARE ISLAND and DEATH IN FOXROCK.
The Hudson and Connolly series: DEADLY SLEEP, TWISTED POWER, BITTER BUSINESS, and WICKED SECRET.
Valerie has also written a stand-alone psychological thriller, Exit Five from Charing Cross
In March 2018, Valerie signed a two-book contract with the publisher, Bookouture. The first of these, Secrets Between Us, is out now.
Author Social Media Links:
[amazon_link asins='B07GJC9YYD' template='ProductCarousel' store='tiredmummyblog-21′ marketplace='UK' link_id='072ec56c-e8aa-11e8-9058-e9c6d3816045′]