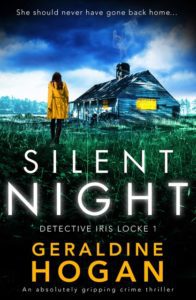 Iris Locke is desperate to get out of the shadow of her high ranking but retired police officer father. She wants to join the murder team in the city but due to a collapsed case, she is relegated to the counrtyside, working at her father's old station.
Mother of 2, Anna is found dead: shot and then burned with her children in a horrific case for the team. She had always lived with the guilt of her little sister going missing, presumed murdered by her mother as a result of postnatal depression and Jack Locke was the investigating officer.
Could there be a connection between her murder and the disappearance of her baby sister 30 years ago? Iris thinks so but the case files are missing…
The police team are a mixed bunch and we find out some personal details about them which draw us in and make us sypatise even with the ones that are not particularly easy to like. Grady has a mystery in his past. Slattery has a very unhappy home life. Iris is trying to find a team where she can settle and make a name for herself, prove that she isn't relying on her father's reputation to further her career.
The crimes are unpleasant but there is no graphic detail of the injuries or forensic information: the focus is upon the investigation and the team. We see interview strategies and methodical examination of facts as well as gut instinct.
There are personality clashes and the power play at work throughout the book. The unfairness that Iris is judged by her father's career inspires her determination to prove herself worthy of being in the team on her own merit, and we as readers are willing her to succeed.
This is a really good police procedure novel and there is good character development of the police officers. The pace of the book is reasonably fast whilst also allowing enough time to get to know the main characters.
The final quarter of the book takes the investigation along a way I never expected. I see from the author's note at the end that there will be a sequel and I can't wait!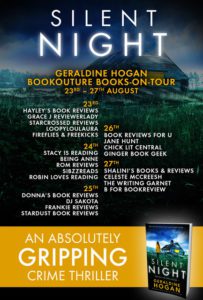 SILENT NIGHT 
'She reached into the pram and placed her hands on the cotton blanket. It was still warm. But her smiling, new baby sister, with her wide blue-grey eyes, was gone…'
Twenty five years later, three bodies are found at a ramshackle cottage in the Irish countryside, and Detective Iris Locke is sick to her stomach. The victims are Anna Crowe and her two young children.
Iris has only recently joined the Limerick Murder Squad. Against her father's advice, she's working the narrow lanes and green hills of her childhood. Iris still remembers Anna, who was just a small girl when her baby sister was snatched, never to be seen again. It was the one case Iris' own father never solved, and Iris can't help but wonder if the two crimes are connected.
She'll stop at nothing to find Anna justice, but a fire has destroyed almost all the physical evidence, and Limerick is the same small town she remembers: everybody protects their neighbours, and Iris has been away for too long.
Can Iris unpick the lies beneath the surface of her pretty hometown, and catch the most twisted individual of her career, when reopening the old case means reopening old wounds for her team, the rest of the community, and her own father?
Fans of Patricia Gibney, Angela Marsons and L.J. Ross won't want to miss this – the first book in a gripping and unputdownable new crime series.

About the author
Geraldine Hogan was born in Ireland. She gained an Honors Degree in English Literature and Psychology from Dublin City University and a Postgraduate Degree in Training and Management from University College, Galway. She is an Irish award-winning and bestselling author of four contemporary fiction novels under the pen name Faith Hogan.
Silent Night is her first crime novel, her second is due out in December 2019.
She is currently working on her next novel. She lives in the west of Ireland with her husband, four children and a very busy Labrador named Penny. She's a writer, reader, enthusiastic dog walker and reluctant jogger – except of course when it is raining!