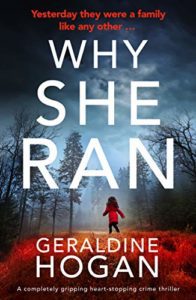 Detective Iris Locke is still reeling from the outcome of her previous case in Silent Night and I would advise reading the first in the series to get the background story (plus it was really good!)
In this case, a teenager goes missing and her support worker is found dead. Could Eleanor be a suspect or a victim? She has been locked away for her own protection and that of her wealthy and influential family but is she dangerous or vulnerable?
Secrets begin to emerge about the murder victim's and missing teen's families that give the police plenty of avenues of enquiry. But the frantic search for Eleanor is failing to provide any clues and time is running out…
Locke is devastated by the events of the last book and her colleague Slattery is dealing with his wife's dementia. These subplots serve to make the police more rounded characters and demonstrate their humanity. These two lead detectives are developing a positive working relationship despite their personal problems and show mutual respect and support over the course of the book.
Like the previous book, Why She Ran is a solid police procedure novel and the focus is on the investigation and interrogation of suspects. There was repetition as individuals needed to be interviewed several times to reveal their secrets but this made it more realistic and doesn't interfere with the momentum of the plot. The setting in Ireland and use of accented dialogue adds another dimension of credibility to the plot and characters.

'Rachel. They must have made a mistake. A mother would know?' She let her words pour into the emptiness of the kitchen. She began to shiver. 'I can't feel anything,' she said softly and rocked back and forth, as if she was a huge child, seeking solace in the simple gesture.
When young, pretty nurse Rachel McDermott is found murdered in the harsh lights of the hospital kitchen where she works, her mother can't accept the news, and the small Irish town of Corbally reels in disbelief. Rushing to the scene, Detective Iris Locke vows to find the sick killer, whatever it takes.
The last person to see Rachel alive was her close friend, sixteen-year-old Eleanor Marshall, a troubled teenager, estranged from her family. Eleanor was spotted fleeing the kitchen where Rachel's body was found and becomes the main suspect. Iris has a search party combing the endless woods near the Comeragh mountains where they believe she is hiding. But Iris is consumed with worry for the vulnerable girl and can't shake a prickly disquiet that Eleanor shouldn't be a suspect.
Eleanor's sister agrees but a day later, when she is found dead in the area Eleanor is hiding, things don't look good for the runaway teen. Iris can't see Eleanor, who still sleeps with her childhood teddy bear, as someone who would kill her little sister and her best friend, but all the evidence seems to point that way.
Sleep-deprived and desperate to find the truth, Iris takes a closer look into Rachel's background and discovers that she was keeping strange, shadowy company the night before she died. Convinced that Eleanor is in terrible danger, Iris sets out to find her, in the icy-cold woods, alone. But what if somebody else makes their way through the darkness and reaches Iris and Eleanor first?
Why She Ran is a gripping mystery thriller, perfect for fans of Carol Wyer, Robert Dugoni and LJ Ross.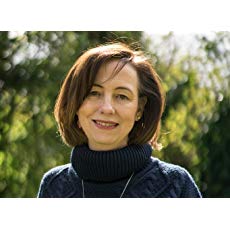 Author Bio:
Geraldine Hogan was born in Ireland. She gained an Honors Degree in English Literature and Psychology from Dublin City University and a Postgraduate Degree in Training and Management from University College, Galway. She is an Irish award-winning and bestselling author of four contemporary fiction novels under the pen name Faith Hogan.
HER SISTER'S BONES is her first crime novel, her second WHY SHE RAN is due out in December 2019.
Geraldine is currently working on her next novel. She lives in the west of Ireland with her husband, four children and a very busy Labrador named Penny. She's a writer, reader, enthusiastic dog walker and reluctant jogger – except of course when it is raining!
You can find out more about Geraldine here:
www.Facebook/GeraldineHoganAuthor.com
Twitter @gerhogan
https://www.instagram.com/faithhoganauthor/?hl=en