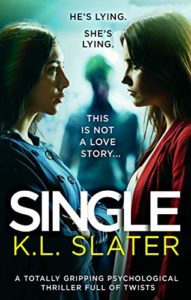 Darcy is shocked to discover her perfect man and the brilliant dad to her kids has been leading a double life. Neither woman suspected that Joel was cheating; even when he was on his deathbed, he managed to keep them apart.
Now 4 years later, Joel's family are still keeping quiet about the other woman but Darcy suspects that the mysterious Daniela is trying to ruin her life. Darcy begins a new relationship with George and this puts pressure on her support network of Joel's parents and sister. But George is keeping secrets of his own and possibly has his own stalker…
There are plenty of clues throughout the book that there are secrets being kept by many of the different characters. As human beings we can identify with Darcy in her grief and as parents understand her fears for her children. The betrayal she has suffered as a result of Joel's actions and the constant feeling of being undermined by his family make her vulnerable and we take her side.
There is so much emotion in this book and it is easy to see mulitple perspectives. Darcy's determination to protect her children and her in-laws' need to remain part of the the children's lives. As a previously single mum myself, I could completely understand Darcy's trepidation about starting a new relationship and the anxiety about trusting someone again after being let down.
The plot was completely compelling and I think this is down to the tension in the narrative and the emotion of Darcy. To be perfectly honest, the ending was a little unbelievable for me. I found it to be just one twist too many. However, this did not spoil my overall enjoyment of K.L. Slater's latest psychological thriller.
Take a look at my review of Finding Grace.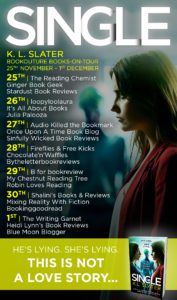 Book Description:
'I keep feeling like I'm being watched – dropping the boys off at school, choosing wine at the supermarket – but when I turn around there's nobody there…'
When single mother Darcy's son falls from a rope bridge at a local playground, life stands still. She clutches his small, limp body, frozen, until a pair of strong hands push her aside, and she watches as George, a local doctor, saves her son's life.
George is a single parent too, and with his twinkling hazel eyes, easy charm, and lack of wedding band is almost too good to be true, but coffee becomes lunch, lunch becomes dinner, and soon they can't go an evening without seeing each other. When he invites her to move into his beautiful home with its sprawling garden for her boys, Darcy doesn't hesitate.
But as Darcy is settling in, she receives a bunch of flowers with a chilling message. George says they're from an obsessed ex-girlfriend, Opal, and days later Opal turns up at Darcy's son's football match. She claims to have shocking information that could threaten George's custody of his daughter.
Darcy doesn't know who to trust, but she's starting to suspect that, whatever the truth, she might have put her beloved boys into terrible danger … 
From the million-copy-bestselling author K.L. Slater this utterly gripping psychological thriller will make you gasp out loud as you race towards the unforgettable twist. If you loved The Girl on the Train and The Wife Between Us this book is for you.
Author Bio:
Kim is the million-copy bestselling author of nine standalone psychological crime thrillers. SINGLE, her new thriller, is published November 2019.
Order of publication:
SAFE WITH ME (2016)
BLINK (2017)
LIAR (2017)
THE MISTAKE (2017)
THE VISITOR (2018)
THE SECRET (2018)
CLOSER (2018)
FINDING GRACE (2019)
THE SILENT ONES (2019)
SINGLE (2019)
THE APARTMENT – AN AUDIBLE ORIGINAL PRODUCTION (2019)
Her titles are published in eBook by Bookouture and in paperback by Sphere (UK) and Grand Central (USA).
For many years, Kim sent her work out to literary agents and collected an impressive stack of rejection slips. At the age of 40 she went back to Nottingham Trent University and now has an MA in Creative Writing.
Before graduating in 2012, she gained literary agent representation and a book deal. As Kim says, 'it was a fairytale … at the end of a very long road!'
Kim is a full-time writer. She has one daughter, two stepsons and lives with her husband in Nottingham.
Publishers: Bookouture, Sphere, Grand Central, Audible
Agent: Camilla Bolton at Darley Anderson
Author website: www.KLSlaterAuthor.com
Twitter: @KimLSlater
Facebook: KL Slater Author
Instagram: KLSlaterAuthor