OMG what a book!
This book struck a chord with me straight away. My eldest is nearly 9 and desperate for more independence including walking to and from his best friend's house nearby, and we have also discussed him walking to my parents' which is 2 roads away. I immediately identified with the main character Lucie whose daughter wants to walk home alone.
In this book, nine year old Grace is allowed to walk home for the first time ever. Her parents have agreed with the best friend's parents that they will watch secretly to the corner at which point Blake, the dad, will watch her. But Blake gets distracted by his phone then slips over…
In that split second, Grace disappears.
Her mother Lucie is quite obviously frantic and the police are called immediately but their investigation leads to shocking revelations about more than one family member. Can Lucie trust her frinds or even her own husband…?
Events from Lucie's past are gradually revealed through the book and we discover secrets which she thought had been hidden forever. Again I felt a real connection with Lucie as I recalled my own university days: the worry of meeting new people, homesickness, the self discipline of organising your own studies.
This is a fast paced intriguing read which is well written and emotive. We follow Lucie as she struggles to cope with the disappearance of Grace. We see and feel the pain and worry she suffers in the present day, whilst the events of the past are revealed in flashbacks. There are also other viewpoints shared with the reader and these serve to give a more broad understanding of events and show other secrets.
To be totally honest, I thought the ending was slightly OTT and therefore not very believable. However, this did not spoil my enjoyment of the book at all. The rest of the book was absolutely superb and I would have no hesitation in recommending it!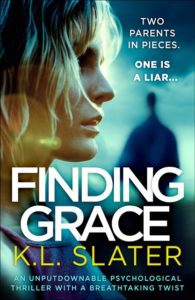 Finding Grace by KL Slater
Buy Links:
This morning, my daughter sat right here, munching her breakfast, too excited to finish it. Now, she is missing.
The day after her ninth birthday, Lucie and Blake Sullivan agree, for the very first time, to let their daughter, Grace, make the four-minute walk back home alone from a friend's house just down the street.
They joke with friends about hiding behind bushes to ensure she is safe. But the joke turns sour when Grace does not appear.
Despite the best efforts of the police and local community, Grace seems to have vanished into thin air. With hope fading fast, Lucie knows she can rely on her husband to support her through such dark times. That is until the day she makes a shocking discovery, hidden in Blake's desk, and suddenly she begins to doubt everything she knew about the man she married.
But Lucie harbours a terrible secret of her own. One that she has never shared with anyone, even Blake …
And as the search for Grace reaches fever pitch, Lucie receives a terrifying message. If she is ever to see Grace again, Lucie has no choice but to face the past she tried hard to bury forever. And she must do it alone.
The most gripping psychological thriller you'll read this year from the bestselling author K.L. Slater. If you love The Wife Between Us or Gone Girl, you'll be totally hooked on Finding Grace.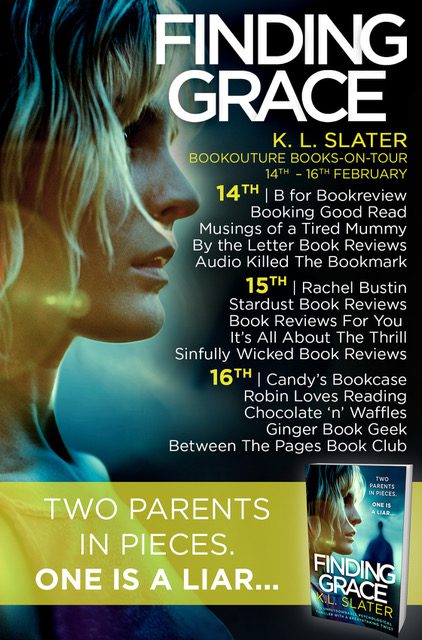 About the author: 
Kim is the million-copy bestselling author of seven psychological crime thrillers. FINDING GRACE published 14th February 2019 is her eighth thriller.
Kim's titles are also published in paperback by Sphere in the UK and Grand Central in the USA.
For many years, Kim sent her work out to literary agents and collected an impressive stack of rejection slips. At the age of 40 she went back to Nottingham Trent University and now has an MA in Creative Writing.
Before graduating in 2012, she gained literary agent representation and a book deal. As Kim says, 'it was a fairytale … at the end of a very long road!'
Kim is a full-time writer. She has one daughter, two stepsons and lives with her husband in Nottingham and Yorkshire.

Publishers: Bookouture, Sphere, Grand Central, Audible
Agent: Camilla Bolton at Darley Anderson
Author website: www.KLSlaterAuthor.com
Twitter: @KimLSlater
Facebook: KL Slater Author
Instagram: KLSlaterAuthor