Sister Agatha is 118 and the fifth oldest living person. She believes she only has a week left to live and it is her ambition to be the oldest in the world. She has a week to kill off the four people older than herself…
What a book! Sister Agatha is an absolutely fantastic novel, packed with adventure and humour . I had a smile on my face as I whizzed through the pages, enjoying every nuance of plot and character.
The depth and layers of plot are superb. Agatha was thwarted in love as a teenager and joined the convent where she has led an exemplary life. Now she has an ambition to be the oldest person in the world and is prepared to break her vows to commit murder. Agatha's plans don't work out quite the way she anticipates leading to wonderful plot twists.
The luck or coincidences were a joy to read. The style of writing is light hearted, full of funny commentary but also wise.
There are a number of peripheral characters whose lives are altered by Agatha's journey. There are little mentions in passing of the other nuns which hint at the personality behind the veil. All of the characters were brought to life so well with very human foibles. However it is Agatha herself who truly shines, immersing us in her mission.
Sister Agatha is fun and quirky and I loved the escapades of the incredible nun.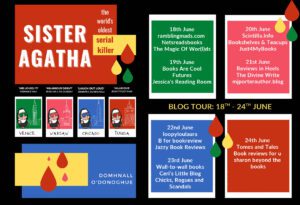 Book blurb: Sister Agatha: The World's Oldest Serial Killer
Sister Agatha is 118 years of age, whose vim and vigour would put the most robust athletes to shame. However, during a routine check-up, her doctor claims that she has just a week to live – inconvenient, seeing as the beloved sister once made an improbable vow: to be the oldest person in the world. At last count, she was the fifth.
Never one to admit defeat, Sister Agatha concocts a bold Plan B. Using her final days, she intends on travelling the world to meet the only four people whose birthday cakes boast more candles than hers.
And then, one by one, she will kill them.

Purchase Links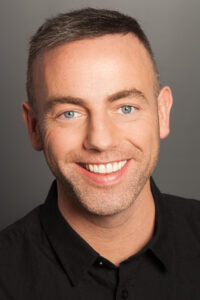 Author Bio –
Hailing from Navan in the royal county of Meath, Domhnall is a graduate of the Bachelor in Acting Studies Programme, Trinity College Dublin, later completing a Master's in Screenwriting at Dún Laoghaire IADT.
He now works as an actor and a journalist, dividing his time between Galway, where he films TG4's award-winning series, Ros na Rún, Dublin and Venice, where he and his Italian lover continuously promise their well-worn livers that they will refrain from quaffing so much Prosecco. (Unfortunately, it seems some vows, just like nearby Rome, were not built in a day.)
Wine-drinking aside, for more than four years, Domhnall has also enjoyed the responsibility of being Assistant Editor at Irish Tatler Man, a title whose various awards includes Consumer Magazine of the Year. Thanks to this role, he interviewed a host of high-profile names such as Tommy Hilfiger, Chris Pine, Kevin Spacey, David Gandy, and Jacques Villeneuve.
Domhnall has written for the majority of Ireland's leading newspapers and magazines, including the Irish Independent, The Irish Times and RTE. He also writes a monthly column in Woman's Way, the country's biggest-selling weekly magazine.
His first novel, Sister Agatha: the World's Oldest Serial Killer, was released in 2016 to critical acclaim (Tirgearr Publishing). His second and third books, Colin and the Concubine and Crazy for You were published by Mercier Press, Ireland's oldest publishing house.
Social Media Links –