TRIGGER WARNING: this books centres around a child's death in a car accident caused by drink driving
Carl and Jo are having an affair and he is finally going to leave his wife. He decides to have a couple of extra drinks to give him courage. Jo begs him not to drive… Anni is on the phone arguing with her ex when her son lets go of his balloon and chases it straight into the road…
The Accident is an extremely tense psychological thriller. It is also hugely emotional as it deals with the aftermath of a child's death. The grief feels authentic and devastating whilst the effect on the perpetrators is handled sympathetically.
A variety of first person perspectives are used to show the experiences of the main characters. This was really effective for showing the emotional states and actions of the characters. Anni and Jo meet by coincidence but their friendship is based on secrets and lies. Meanwhile Carl's situation is prison becomes increasingly dangerous.
The pace of the book is quite fast and the changing perspectives adds an urgency to the plot as we anticipate what will happen next. There is a danger as the lies mount up, leading to a dramatic conclusion. I felt a little underwhelmed by the ending as I'm not sure how credible it was. However to be fair, I'm not sure how the situation could have been resolved. The whole book is thought provoking as it makes you question what is 'right'.
I was completely hooked by The Accident from start to finish.
I have previously reviewed The Break, and The New Friends by Daniel Hurst.
Book Blurb
One moment. Three lives changed forever.
Single mum Anni would do anything for her little boy, Tobi, he is the center of her world. So she is utterly devastated when Tobi is run over and killed by drunk driver, Carl.
Anni hates Carl for what he's done and takes some comfort from the lengthy prison sentence he is serving. But she can't live on hate and after a time spent grieving for her son, Anni returns to work and tries to move on with her life. She is lonely without Tobi and glad to make a new friend, Jo.
But Jo has a secret. She is connected to the fatal accident in a way that Anni never suspects. And Jo is determined that Anni will never discover the awful truth about what really happened that day.
As the two women grow closer, Anni begins to feel that her new friend is keeping something from her.
A terrible suspicion begins to dawn and Anni starts to dig deeper into Jo's past. Will she discover the horrifying truth? Or will she find out just how far some people go to cover up their mistakes…
Three people. One accident. And several shocking twists…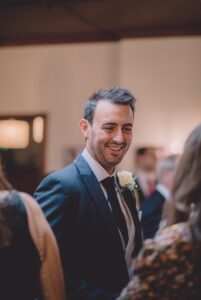 Author Bio
Daniel Hurst writes psychological thrillers and loves to tell tales about unusual things happening to normal people. He has written all his life, making the progression from handing scribbled stories to his parents as a boy to writing full length novels in his thirties. He lives in the North West of England and when he isn't writing, he is usually watching a game of football in a pub where his wife can't find him.
Follow him at: