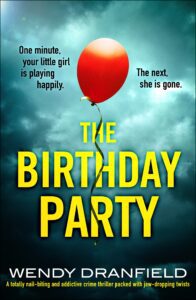 Five year old Charlie is sooooo excited about her cousins' party. There will be a real pony there! She is dropped off by her mum and is due to be collected by her babysitter Megan. But Charlie vanishes from the party and Megan is attacked…
The Birthday Party is a stand alone thriller about every parent's nightmare: a lost child.
OMG I was hooked by this book and couldn't put it down. There are several 'aha!' moments which I loved. Some twists were pretty easy to guess but there are clues that I enjoyed collecting and piecing together.
Kathy Hamilton lives a life of wealth and privilege. But her marriage is strained, her older daughter needs therapy and she is haunted by the past. The past confronts her via the police officer leading the investigation into her missing daughter. Detective Chase Cooper was her first love and now she is depending on him to find her daughter.
The book is written in the third person throughout but there are some chapters from Kathy's past in the 1990s and also some therapist notes. There are twists, secrets and lies which all need to be uncovered as the plot races along.
The Birthday Party was a completely absorbing novel. I have previously reviewed two books from Wendy Dranfield's Madison Harper series: Cry For Help and Little Girl Taken.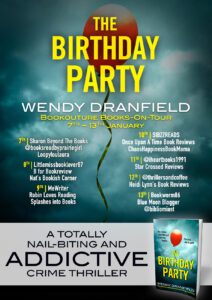 MEDIA PACK
Book: The Birthday Party 
Author: Wendy Dranfield 
Pub Day: Jan 7th 2022 
Buy Link:
About the Book: 
Charlotte waves at her mother across the crowded lawn. Little red boots on, cowboy hat crooked over her blonde pigtails, she's been looking forward to this party for weeks. Moments later, she disappears without a trace…
Kathy Hamilton drives away from her sister-in-law's pristine-white suburban house in Maple Falls certain she's left her daughter in safe hands. On the hottest day of the year, a birthday is the perfect excuse to gather friends, family and neighbors around the pool for a barbecue. But when she returns hours later to find her little girl has vanished, her world shatters.
Nobody laughing and drinking in the garden that day saw anything unusual.
Kathy's eldest daughter is anxious and hardly eating. Is she sick with worry for her sister, or hiding a terrible secret?
The phone rings and rings, but why can't Kathy get hold of the babysitter?
And is she imagining it, or when her husband rushed from work to join the search, was he wearing a different shirt to the one she saw him leave the house in that morning?
As the temperature rises, and long-buried secrets begin to surface, it's clear that even the most perfect families keep devastating secrets. But in a town as small as this, is there anyone you can trust?
A totally gripping and utterly addictive page-turner that will have you racing through and reeling at the twists. Perfect for fans of Lisa Jewell, Gone Girl and Teresa Driscoll, it will keep you up reading all night long!
Author Bio
Wendy is a former coroner's assistant turned crime writer who lives in the UK with her husband and 3 cats.
Her first novel (The Girl Who Died) was longlisted for the Mslexia Novel Competition. Since then she has written two crime series – one follows Officer Dean Matheson on his quest to make detective, and the other is her current series which follows Detective Madison Harper as she tries to reclaim her life after spending six years in prison for a murder she didn't commit.
As well as crime novels Wendy also has short stories published in various anthologies in the UK and the US, and she has been shortlisted and longlisted for various writing competitions.
Wendy's social media: