What a delightful murder mystery (if such a thing can exist!)
The Castle Mystery has a classic feel about it from start to finish and is firmly in the Agatha Christie style of books that I have always loved. I think this would also suit fans of Gosford Park and Downton Abbey due to the setting in a stately home with clear class divisions.
I honestly have no idea when this book is set as it could be any time in the last 50 days or 50 years. Avonsleigh Castle is separate from the normal passing of time, a stately home clinging to the remnants of tradition.
Into this setting arrives cook Jenny Starling. This is actually the fourth book that has featured this amatuear sleuth but this works perfectly well as a stand alone novel.
Governess Ava Simmons is murdered one afternoon whilst Lord and Lady Avonsleigh are entertaining guests. Every character amongst the servants is acting suspiciously and has something to hide. Lady Avonsleigh asks Jenny to help find the culprit when she discovers that she has past experience of amateur sleuthing. Obviously the police are not too happy about havig their authority usurped but Jenny wins them round with her detective skills and her cooking!
This is a great read and I'd love to go back and read more in the series to see how Jenny lived before joining Avonsleigh. The characters are quite stereotypical but that serves to make the whole book seem timeless and comfortable. The book is easy to read and is finished all too quickly!
The epilogue made me chuckle as well as be mildly miffed (not in a bad way!) but I will let you read for yourselves why… I figured out the means, motive and opportunity but loved the red herrings that were planted along the way to keep Jenny and the reader off the scent of the real murderer.
The Castle Mystery (Jenny Starling #4) by Faith Martin
Discover a new series of whodunits by million-selling author Faith Martin. These charming mysteries will have you scratching your head to work out who the murderer is.
Meet Jenny Starling: travelling cook and reluctant amateur detective. 
Please note this book was first published as "AN INVISIBLE MURDER" under Faith Martin's pen name JOYCE CATO.
Jenny Starling has her dream job cooking for Lord and Lady Avonsleigh in a genuine castle.
Then one of the castle's treasures, a fabulously jewelled dagger, is used to murder a staff member. The victim is found stabbed through the heart in the conservatory.
Lady Avonsleigh insists that Jenny help the police find the murderer.
But how can Jenny solve this case when the murder was committed in front of several reliable witnesses, none of whom saw a thing?
This is the fourth of a series of enjoyable murder mysteries with a great cast of characters and baffling crimes which will keep you in suspense to the final page.
Perfect for fans of classic whodunits by authors like Agatha Christie, LJ Ross, TE Kinsey, and J.R. Ellis.
PRAISE FOR THE JENNY STARLING BOOKS
"A wonderful protagonist." Mystery Women
"Classic murder mystery story with a twist at the end" Oxford Times
"Jenny is an attractive, intelligent Rubenesque heroine, and the cast of characters above and below stairs are captured affectionately and wittily." EuroCrime
"Really enjoyable and easy to read." Anne-marie
JENNY STARLINGIn her late twenties, Jenny Starling is an impressive woman. Physically, she stands at 6ft 1inch, and has shoulder-length black hair and blue eyes. Curvaceous and sexy, she's a modern single woman, living the lifestyle that suits her – that of a travelling cook. Her famous (and now very rich) father, is a 'celebrity' cook, divorced from Jenny's mother. Jenny drives a disreputable cherry-red van, and is happy travelling the country catering events and cooking great food. She is on a one-woman crusade to bring back 'real' food. And definitely doesn't like having to divert her attention from achieving the perfect Dundee cake or creating a new sauce recipe by having to solve a murder. She finds crime very distracting, especially when there is chocolate to temper or pike to poach. Nevertheless, she is very good at reading people, and with a quick and agile brain, becomes very good at unmasking killers. And her always-undaunted sense of humour goes a long way in keeping her sane when all around her people are dropping like flies.
THE AUTHOR
FAITH MARTIN is the best-selling author of the DETECTIVE HILLARY GREENE mysteries, which have sold over 1 million copies globally in just over a year.
JENNY STARLING MYSTERIES
Book 1: THE BIRTHDAY MYSTERY
Book 2: THE WINTER MYSTERY
Book 3: THE RIVERBOAT MYSTERY
Book 4: THE CASTLE MYSTERY
More JENNY STARLING mysteries coming soon. Join the Joffe Books mailing list to be the first to hear about the next in the series.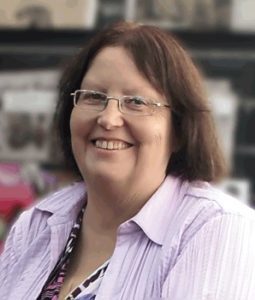 FAITH MARTIN
Faith Martin was born in Oxford, and has spent all her life within twenty miles of the university city, even working at Somerville College for five years before turning to writing full-time. The author of the popular DI Hillary Greene novels, she also writes more classic-style 'whodunits' under the pen name Joyce Cato, but began her writing career as Maxine Barry, winning an award for penning romance novels! A popular writer for over 25 years, she has had nearly 50 novels published so far. Her hobbies include walking her now ageing dog, wildlife-watching, reading and (reluctantly) gardening.