I am a firm fan of Faith Martin's Jenny Starling series so was interested to see how this new series compared……
The answer… just as good! Monica Noble is a vicar's wife who has left her busy urban lifestyle and career to join her new husband in the English countryside. The old vicarage has been converted into flats and Monica wants to get to know her new neighbours better so arranges a garden party.
The party is in full swing when a gun shot is heard and one of the residents is found dead. Was it her cheating husband or his young lover? Was it the secretive professor who left his teaching role under a cloud? Was it any of the other new arrivals to the village?
The Vicarage Murder has the same narrative style as the Jenny Starling stories so I immediately felt comfortable reading the book and knew I would get absorbed by the plot and characters. These books have a traditional Englishness that is reminiscent of Agatha Christie and more recently Midsomer Murders.
There was more police procedure than in the Jenny Starling books and less antagonism with the lead character. The police characters will hopefully appear in later books and we will se a devleopment of them as people but also in their relationship with Monica Noble.
The author leaves plenty of clues as well as red herrings and misdirections to keep readers on their toes. I had no idea who the culprit was but that didn't affect my enjoyment at all: an excellent read overall!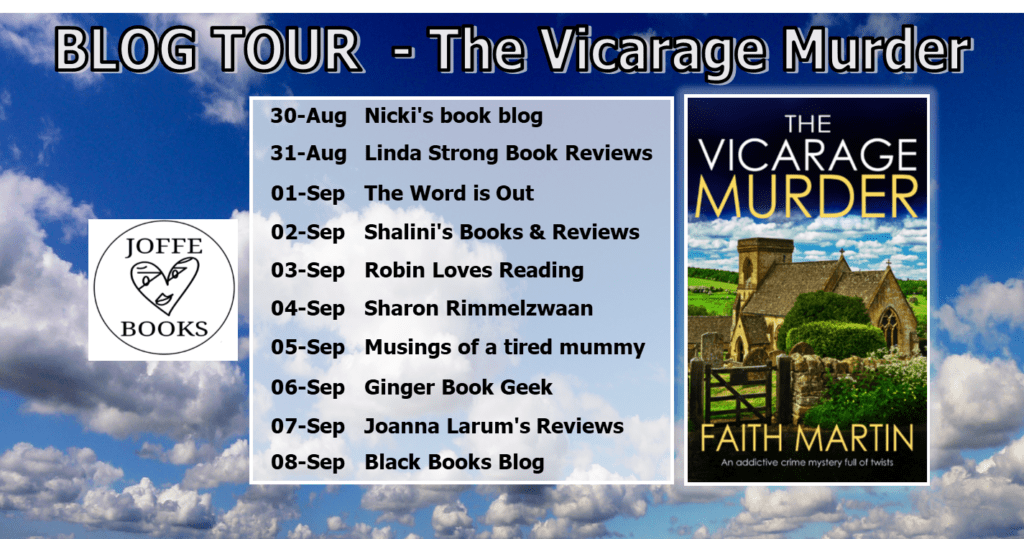 The Vicarage Murder (Monica Noble #1) by Faith Martin
Discover a new series of murder mysteries set in an idyllic English village. From million-selling author Faith Martin.
Meet Monica Noble: the vicar's wife with a taste for solving crimes.
Please note this book was first published as "AN UNHOLY MESS" under Faith Martin's pen name JOYCE CATO.
IN A QUIET COTSWOLD VILLAGE ALL HELL IS ABOUT TO BREAK LOOSE
Monica Noble is throwing a party to welcome the village's new residents. The guests include Margaret and her cheating husband Sean, who's a celebrity chef. Also on the list are an Oxford university professor, a 40-something divorcee, and the owner of a chain of gyms.
Then as the drinks are flowing, a shotgun blast rings out. One of the guests is found dead.
DCI Dury and Sergeant Jim Greer are soon on the scene and discover that the victim had many enemies. Almost all the guests harbour secrets and motives for murder. Even Monica's daughter comes under suspicion.
When another villager is strangled to death nearly a week later, the stakes are raised.
 
Can Monica help the local detectives save her daughter and solve the murders before anyone else pays the ultimate price?
This is the first of a series of enjoyable murder mysteries with great characters and baffling crimes which will keep you gripped till the final page.
Perfect for fans of classic whodunits by authors like Agatha Christie, LJ Ross, TE Kinsey, and J.R. Ellis.
MONICA NOBLE was widowed young, leaving her to raise her feisty daughter on her own. That is, until she met and fell in love with Graham Noble, a country vicar (pastor), who enticed her to leave her high-flying job in advertising in the city and move to the Cotswold countryside. There she found bucolic life very pleasant indeed — until murder started to rear its ugly head. And she discovered, to everyone's surprise, that she had a flair for solving the most unholy of crimes.
FAITH MARTIN is the best-selling author of the DETECTIVE HILLARY GREENE and JENNY STARLING mysteries, which have topped the global best-seller charts.
More MONICA NOBLE mysteries coming soon. Join the Joffe Books mailing list to be the first to hear about the next in the series.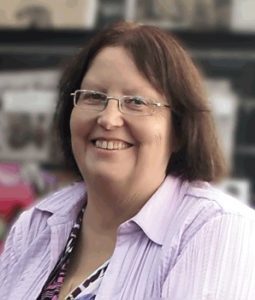 FAITH MARTIN
Faith Martin was born in Oxford, and has spent all her life within twenty miles of the university city, even working at Somerville College for five years before turning to writing full-time."The author of the popular DI Hillary Greene novels, she also writes more classic-style 'whodunits' under the pen name Joyce Cato, but began her writing career as Maxine Barry, winning an award for penning romance novels! A popular writer for over 25 years, she has had nearly 50 novels published so far. Her hobbies include walking her now ageing dog, wildlife-watching,"reading and (reluctantly) gardening."