Jenny Starling is employed by a village cricket team to provide the refreshments at a celebratory match. However, once again her sleuthing skills are required when womaniser Tris Jones is found dead.
Jenny finds it easier in this book than in the previous ones I have read to get the police on side, possibly due to the fact they are understaffed and  Detective Causon is grateful for any help he can get! This makes an nice change to the usual animosity that she faces and the positive relationship makes both characters firmly concentrate on the case.
There are lots of red herrings and secrets to unearth throughout the book. I'll admit that on this occasion I found it a little tricky to keep up with the characters as we don't get long to meet them before the first murder. However, after Tris' death, I felt more comfortable with sorting out the characters and motives in my own head. But then another body is discovered…
The Teatime Mystery is a comfortable and easy to read book. The events are over such a short space of time that there isn't a lot of time to develop Jenny's character further but it is an enjoyable read. The English countryside and traditions are evoked well in the manner of Midsomer Murders.
Faith Martin's Jenny Starling series has such a classic feel and reminds me of Agatha Christie with a focus on the characters and motives rather than on graphic violence and forensic science.
THE TEATIME MYSTERY by Faith Martin
Discover a new series of whodunits by million-selling author Faith Martin. These charming mysteries will have you scratching your head to work out who the murderer is.
Meet Jenny Starling: travelling cook and reluctant amateur detective.
Please note this book was first published as "JUST NOT CRICKET" under Faith Martin's pen name JOYCE CATO.
Jenny Starling is doing the catering for the village cricket match. But she's not expecting one of the players to turn up dead.
Everyone from the village has turned out to watch the match, and with this being the club's centenary, Jenny Starling has been hired specially to provide her stunning food for the event.
Then the next man up to bat, Tristan Jones, is nowhere to be found. He is discovered behind the pavilion, murdered by a blow to the back of the head with an old cricket bat.
The handsome twenty-something had a reputation as a Lothario, with an appetite for married women. Did a scorned woman or a cuckolded husband kill him?
However, he'd annoyed other people too. He was a stockbroker who took big risks with other people's money and lost their lifesavings.
Soon another body turns up and Jenny Starling is going to need all her cunning to crack this complex case.
This is the sixth in a series of enjoyable murder mysteries with a great cast of characters and baffling crimes which will keep you in suspense to the final page.
Perfect for fans of classic whodunits by authors like Agatha Christie, LJ Ross, TE Kinsey, and J.R. Ellis.
JENNY STARLING
In her late twenties, Jenny Starling is an impressive woman. Physically, she stands at 6ft 1inch, and has shoulder-length black hair and blue eyes. Curvaceous and sexy, she's a modern single woman, living the lifestyle that suits her – that of a travelling cook. Her famous (and now very rich) father, is a 'celebrity' cook, divorced from Jenny's mother. Jenny drives a disreputable cherry-red van, and is happy travelling the country catering events and cooking great food. She is on a one-woman crusade to bring back 'real' food. And definitely doesn't like having to divert her attention from achieving the perfect Dundee cake or creating a new sauce recipe by having to solve a murder. She finds crime very distracting, especially when there is chocolate to temper or pike to poach. Nevertheless, she is very good at reading people, and with a quick and agile brain, becomes very good at unmasking killers. And her always-undaunted sense of humour goes a long way in keeping her sane when all around her people are dropping like flies.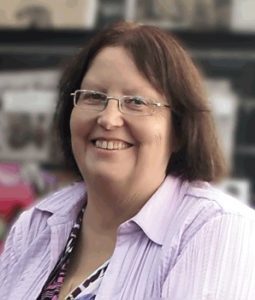 THE AUTHOR
FAITH MARTIN is the best-selling author of the DETECTIVE HILLARY GREENE mysteries, which have sold over 1 million copies globally in just over a year.
JENNY STARLING MYSTERIES
Book 1: THE BIRTHDAY MYSTERY
Book 2: THE WINTER MYSTERY
Book 3: THE RIVERBOAT MYSTERY
Book 4: THE CASTLE MYSTERY
Book 5: THE OXFORD MYSTERY
Book 6: THE TEATIME MYSTERY
FAITH MARTIN
Faith Martin was born in Oxford, and has spent all her life within twenty miles of the university city, even working at Somerville College for five years before turning to writing full-time. The author of the popular DI Hillary Greene novels, she also writes more classic-style 'whodunits' under the pen name Joyce Cato, but began her writing career as Maxine Barry, winning an award for penning romance novels! A popular writer for over 25 years, she has had nearly 50 novels published so far. Her hobbies include walking her now ageing dog, wildlife-watching, reading and (reluctantly) gardening.