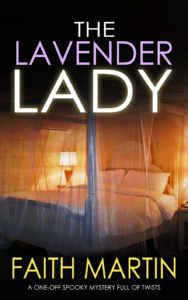 A mystery with a supernatural twist: an old woman dies, apparently of natural causes. Her daughter visits the house and can feel a cold spot in the bathroom and smell her mother's lavender perfume. Is there a ghostly Lavender Lady?
She calls in a team of paranormal investigators to discover if her mother's spirit is restless or if it is all in her imagination. On this particular case, the team are joined by Effie James, a recently widowed woman who has been asked to help her psychologist friend Duncan with his latest book.
There is clever characterisation of Effie as she rediscovers her own personality which has been in the shadow of her recently deceased husband: she adored him but through the comments of her friends, we find out he was quite controlling over how she should behave and dress.
The narrative is lighthearted and easy to read. The investigation is carefully approached with skepticism but an open mind, allowing readers to form their own conclusions as they follow the plot developments.
I am already a fan of author Faith Martin and her crime novels so was looking forward to seeing how she approached a change of genre. The element of mystery was still there and the supernatural theme suited her style of writing well. This was an enjoyable read and I hope that we have more books featuring Effie soon.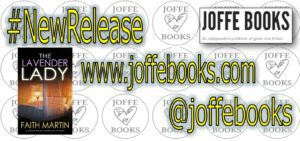 THE LAVENDER LADY by Faith Martin
DISCOVER A DELIGHTFUL ONE-OFF SPOOKY MYSTERY FROM TWO-MILLION SELLING AUTHOR FAITH MARTIN
Please note this is completely revised edition of "The Lavender Lady Casefile" published under Faith Martin's pen name Jessie Daniels.
DO GHOSTS EXIST? PERHAPS, IF THEY HAVE A MURDEROUS SECRET TO TELL.
Newly-widowed Effie James is asked by her old friend Duncan, a psychology professor, to help him with his latest book. Her task is to join the C-Fits, a paranormal investigation team, on their ghost-watching vigils and report back to Duncan.
Corwin Fielding, the attractive and erudite leader of the paranormal researchers has no objections to an 'impartial' observer on his team, and the others in the group are a friendly and welcoming bunch.
The C-Fits are called in by Isabel Atkins. She is worried that her recently deceased mother might be haunting her old family home. Effie quickly finds herself thrown in at the deep end.
THE SCENT OF LAVENDER MYSTERIOUSLY COMES AND GOES IN THE OLD LADY'S BEDROOM.
But Effie comes to suspect that the old lady might not have died of natural causes after all. And that her killer might not take very kindly to the idea of a group of strangers poking their noses in . . .
IN A COSY OXFORDSHIRE VILLAGE SOMETHING IS VERY WRONG.

FAITH MARTIN is the two-million-selling author of the DETECTIVE HILLARY GREENE and JENNY STARLING mysteries, which have topped the global best-seller charts.
Faith Martin was born in Oxford, and has spent all her life within twenty miles of the university city, even working at Somerville College for five years before turning to writing full-time. The author of the popular DI Hillary Greene novels, she also writes more classic-style 'whodunits' under the pen name Joyce Cato, but began her writing career as Maxine Barry, winning an award for penning romance novels! A popular writer for over 25 years, she has had nearly 50 novels published so far. Her hobbies include walking her now ageing dog, wildlife-watching, reading and (reluctantly) gardening.
More FAITH MARTIN books coming soon. Join the Joffe Books mailing list to be the first to hear about the next in the series.
MONICA NOBLE MYSTERIES
Book 1: THE VICARAGE MURDER
Book 2: THE FLOWER SHOW MURDER
Book 3: THE MANOR HOUSE MURDER
JENNY STARLING MYSTERIES
Book 1: THE BIRTHDAY MYSTERY
Book 2: THE WINTER MYSTERY
Book 3: THE RIVERBOAT MYSTERY
Book 4: THE CASTLE MYSTERY
Book 5: THE OXFORD MYSTERY
Book 6: THE TEATIME MYSTERY
Book 7: THE COUNTRY INN MYSTERY