Although a huge fan of Faith Martin, this is the first of her Hillary Greene series that I have read and it's book number 18!
I, therefore, came fresh to the book as she changes direction and we are introduced to a new team with a new recruit ex army Gareth who is adjusting to civilian life and learning to deal with his physical injuries. Hillary leads the cold case team, investigating old crimes where an investigation didn't lead to a ocnviction.
Their latest case is the murder of a drug dealer Andrew Feeley from a single stab wound. There are plenty of suspects for Hillary and her team to interview but little evidence so she is forced to rely on her meticulous notes and police instinct.
The police characters are down to earth and easy to relate to. There is no graphic forensic detail or violence, and the whole focus is on interview technique combined with careful sifting of facts so that we can join in with the process of eliminating suspects.
I thought that the way Faith Martin uses the new character of Gareth to introduce Hillary's change of circumstances and role is really clever. It is a way to inform us of the processes involved in cold cases and the difference between this and usual police novels. It will suit previous fans of the series and also new ones like me 🙂
I think there is scope for many more novels with the new team, and long may Hillary reign!
Have a peek at stand alone spooky mystery The Lavender Lady that I reviewed last week 🙂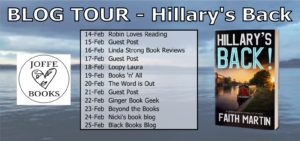 Hillary's Back (Detective Hillary Greene #18) by Faith Martin
ONE OF THE WORLD'S FAVOURITE DETECTIVES RETURNS.
A BRAND NEW MYSTERY IN THE MILLION-SELLING SERIES.
DETECTIVE HILLARY GREENE IS BACK!
Eighteen months after Hillary suffered a personal tragedy, she is throwing herself into her work to try to get over it.
Former soldier Gareth Proctor joins her team and finds himself quickly growing to enjoy his new environment.
The first cold case he works on is the murder of Andrew Feeley.
In 2012, this twenty-one-year-old was found dead in the woods near his home, killed by a single stab wound to the chest from his own knife.
Andrew was extremely unpopular. He was a drug dealer, pimp and bully. His stepdad was one of the main suspects, as they hated each other and often came to blows. Other suspects include Toby Truman and his mother Debbie. Andrew was responsible for getting Toby hooked on drugs.
Given Andrew's criminal background, his murder is thought to be drug-related.
But Hillary's not buying it — she knows it's personal. And a search of the Feeleys' garden turns up some chilling evidence.
HILLARY GREENE RETURNS TO ONE OF HER TOUGHEST CASES YET.
This is a crime mystery full of well-observed characters, which will have you gripped from start to the absolutely thrilling conclusion.
THE DETECTIVE
DI Hillary Greene
An attractive, single woman just over fifty, Hillary Greene was a police officer of many years' experience (earning the rank of DI) and came up through the ranks. Consequently, she knew how the system worked, and was always fiercely loyal to the force without being blinkered to its faults. Forced to retire early through no fault of her own, she has now returned to the force as a civilian consultant on cold cases.
DI HILLARY GREENE SERIES
BOOK 1: MURDER ON THE OXFORD CANAL
BOOK 2: MURDER AT THE UNIVERSITY
BOOK 3: MURDER OF THE BRIDE
BOOK 4: MURDER IN THE VILLAGE
BOOK 5: MURDER IN THE FAMILY
BOOK 6: MURDER AT HOME
BOOK 7: MURDER IN THE MEADOW
BOOK 8: MURDER IN THE MANSION
BOOK 9: MURDER IN THE GARDEN
BOOK 10: MURDER BY FIRE
BOOK 11: MURDER AT WORK
BOOK 12: MURDER NEVER RETIRES
BOOK 13: MURDER OF A LOVER
BOOK 14: MURDER NEVER MISSES
BOOK 15: MURDER AT MIDNIGHT
BOOK 16: MURDER IN MIND
BOOK 17: HILLARY'S FINAL CASE
Book 18: HILLARY'S BACK!

FAITH MARTIN is the two-million-selling author of the DETECTIVE HILLARY GREENE and JENNY STARLING mysteries, which have topped the global best-seller charts.
Faith Martin was born in Oxford, and has spent all her life within twenty miles of the university city, even working at Somerville College for five years before turning to writing full-time. The author of the popular DI Hillary Greene novels, she also writes more classic-style 'whodunits' under the pen name Joyce Cato, but began her writing career as Maxine Barry, winning an award for penning romance novels! A popular writer for over 25 years, she has had nearly 50 novels published so far. Her hobbies include walking her now ageing dog, wildlife-watching, reading and (reluctantly) gardening.
More FAITH MARTIN books coming soon. Join the Joffe Books mailing list to be the first to hear about the next in the series.