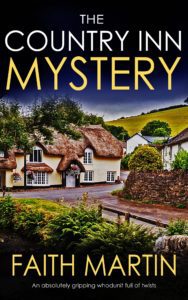 Jenny Starling is covering her fellow chef friend's holiday at a country inn and ensuring that the food for its Regency event is authentic and delicious. As well as the food, the inn is hosting ghost walks and an am dram recreation of a tragic local love story.
During the final dramatic suicide scene a spectator causes a distraction and when the audience turns back the lead actress is dead just like her character.
The Country Inn Mystery provides plenty of motives for killing Rachel but who had the opportunity to commit the crime?! With great reluctance, Inspector Franklyn accepts the assistance of Jenny to solve the case.
I felt there was more build up and tension in this book compared to the last one. This allowed for greater introduction to the characters and a better understanding of potential motives and the psychology behind the murder (Agatha Christie would be proud!)
The narrative is easy to read and without any graphic detail. The characters are well developed and Faith Martin has created an excellent lead in her main character of Jenny.
I admit that I found the ending slightly rushed and would have liked to see some more aftermath to the revelations of the motive and murderer. However, once again the overall book was a wonderful read and I look forward to the continuation of the Jenny Starling series.
Read my reviews of books four, five and six!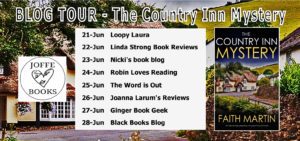 THE COUNTRY INN MYSTERY by Faith Martin
Discover a new series of whodunits by million-selling author Faith Martin. These charming mysteries will have you scratching your head to work out who the murderer is.
Meet Jenny Starling: travelling cook and reluctant amateur detective.
THIS IS A BRAND NEW, NEVER BEFORE PUBLISHED FAITH MARTIN BOOK.
Jenny Starling is working at The Spindlewood Inn for the weekend. It's hosting a Regency Extravaganza, involving historical costume, amateur dramatics and food.
Leading actress of the amateur dramatic society and reputed man-eater Rachel Norman portrays a doomed noblewoman. But when she turns up actually drowned in the pond, there's suddenly a murder to investigate.
There's been plenty of trouble at the idyllic country inn. The performers weren't a happy troupe, and Jenny discovers a simmering romantic tension.
Who wanted Rachel dead and why? Jenny Starling is going to need all her wits to crack this complex case.
This is the seventh in a series of enjoyable murder mysteries with a great cast of characters and baffling crimes which will keep you in suspense to the final page.
Perfect for fans of classic whodunits by authors like Agatha Christie, LJ Ross, TE Kinsey, and J.R. Ellis.
JENNY STARLING
In her late twenties, Jenny Starling is an impressive woman. Physically, she stands at 6ft 1inch, and has shoulder-length black hair and blue eyes. Curvaceous and sexy, she's a modern single woman, living the lifestyle that suits her – that of a travelling cook. Her famous (and now very rich) father, is a 'celebrity' cook, divorced from Jenny's mother. Jenny drives a disreputable cherry-red van, and is happy travelling the country catering events and cooking great food. She is on a one-woman crusade to bring back 'real' food. And definitely doesn't like having to divert her attention from achieving the perfect Dundee cake or creating a new sauce recipe by having to solve a murder. She finds crime very distracting, especially when there is chocolate to temper or pike to poach. Nevertheless, she is very good at reading people, and with a quick and agile brain, becomes very good at unmasking killers. And her always-undaunted sense of humour goes a long way in keeping her sane when all around her people are dropping like flies.
THE AUTHOR
FAITH MARTIN is the best-selling author of the DETECTIVE HILLARY GREENE mysteries, which have sold over 1 million copies globally in just over a year.
JENNY STARLING MYSTERIES
Book 1: THE BIRTHDAY MYSTERY
Book 2: THE WINTER MYSTERY
Book 3: THE RIVERBOAT MYSTERY
Book 4: THE CASTLE MYSTERY
Book 5: THE OXFORD MYSTERY
Book 6: THE TEATIME MYSTERY
Book 7: THE COUNTRY INN MYSTERY

FAITH MARTIN
Faith Martin was born in Oxford, and has spent all her life within twenty miles of the university city, even working at Somerville College for five years before turning to writing full-time. The author of the popular DI Hillary Greene novels, she also writes more classic-style 'whodunits' under the pen name Joyce Cato, but began her writing career as Maxine Barry, winning an award for penning romance novels! A popular writer for over 25 years, she has had nearly 50 novels published so far. Her hobbies include walking her now ageing dog, wildlife-watching, reading and (reluctantly) gardening.