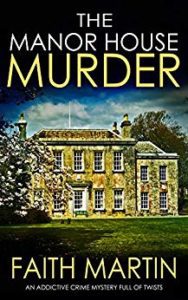 A big clerical conference held in a local manor house finds Monica Noble and her husband embroiled in another murder mystery! During dinner Reverend Celia Gordon collapses, suffering a suspected anaphylactic reaction to nuts.
She had not been a popular delegate at the conference and had upset many people with her forceful personality. There was added tension in this book as Graham knew the victim and was seen eating peanuts: could he have killed her or did Monica's jealousy get the better of her?
DCI Jason Dury is once again called in to investigate and has a wide selection of suspects harbouring secrets but which relate to the murder…?
Faith Martin's narrative is so familiar and gentle despite the murderous plot. I have said before that it has the classical English village feel of Agatha Christie novels which is one of the biggest compliments I can give!
This is the third book to feature the Nobles but could easily work as a stand alone novel (although I would definitely recommend reading The Vicarage Murder and The Flower Show Murder!) Her main characters are so likeable and to see them suspected in this case increases the drama.
There is no graphic violence or forensic detail and the style is warm and humorous throughout. The conclusion tied up all loose ends and uncovered all secrets so that we could understand the motivation of all the characters. Just how I like my books to end!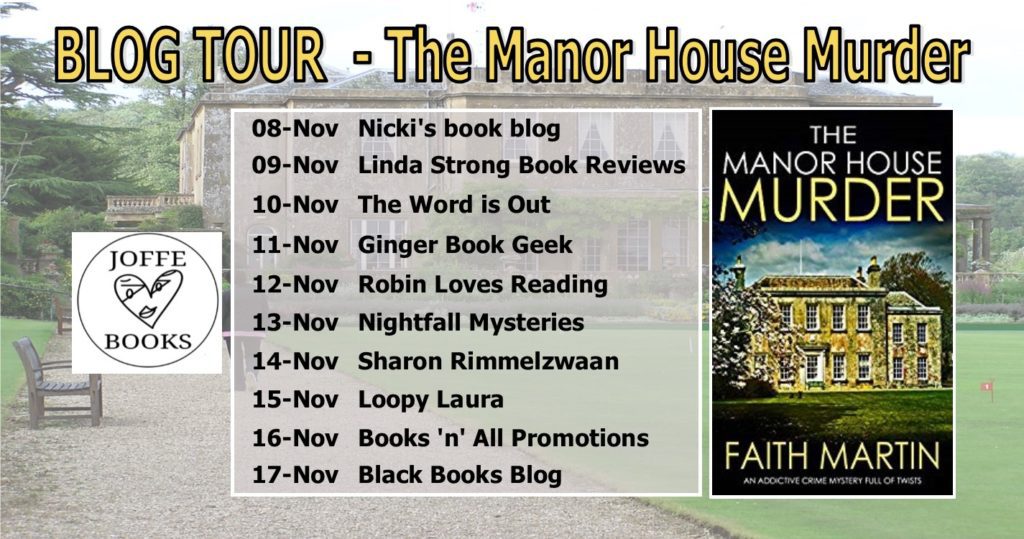 The Manor House Murder
Meet Monica Noble: the vicar's wife with a taste for solving crimes.
Please note this book was first published as "AN UNHOLY SHAME" under Faith Martin's pen name JOYCE CATO.
THE WEEKEND TURN MURDEROUS
Monica Noble and her husband Graham, the local vicar, are invited to participate in a high-flying church conference being held at a swanky manor house hotel in their village.
At the Saturday night dinner, the ambitious female cleric Celia Gordon tragically dies, seemingly of a peanut allergy.
But when Chief Superintendent Jason Dury arrives on the scene he quickly discovers that it's a case of murder.
And Monica's husband is the prime suspect.
Other suspects include an eminent bishop, an archdeacon viciously opposed to female clergy, and his wife, the curator of a local museum, who is definitely up to something.
But if Monica is to find out who killed Celia, and free her husband from suspicion, she must grapple with a very ruthless — and increasingly desperate — killer, putting herself and those around her in mortal danger.
This is the third of a series of enjoyable murder mysteries with great characters and baffling crimes which will keep you gripped till the final page.
Perfect for fans of classic whodunits by authors like Agatha Christie, LJ Ross, TE Kinsey, and J.R. Ellis.
MONICA NOBLE was widowed young, leaving her to raise her feisty daughter on her own. That is, until she met and fell in love with Graham Noble, a country vicar (pastor), who enticed her to leave her high-flying job in advertising in the city and move to the Cotswold countryside. There she found bucolic life very pleasant indeed — until murder started to rear its ugly head. And she discovered, to everyone's surprise, that she had a flair for solving the most unholy of crimes.
FAITH MARTIN is the million-selling author of the DETECTIVE HILLARY GREENE and JENNY STARLING mysteries, which have topped the global best-seller charts.
More FAITH MARTIN mysteries coming soon. Join the Joffe Books mailing list to be the first to hear about the next in the series.
MONICA NOBLE MYSTERIES
Book 1: THE VICARAGE MURDER
Book 2: THE FLOWER SHOW MURDER
Book 3: THE MANOR HOUSE MURDER
JENNY STARLING MYSTERIES
Book 1: THE BIRTHDAY MYSTERY
Book 2: THE WINTER MYSTERY
Book 3: THE RIVERBOAT MYSTERY
Book 4: THE CASTLE MYSTERY
Book 5: THE OXFORD MYSTERY
Book 6: THE TEATIME MYSTERY
Book 7: THE COUNTRY INN MYSTERY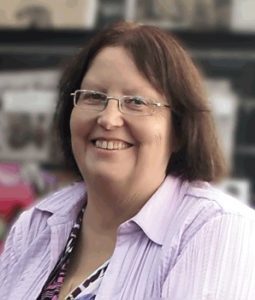 FAITH MARTIN
Faith Martin was born in Oxford, and has spent all her life within twenty miles of the university city, even working at Somerville College for five years before turning to writing full-time.
The author of the popular DI Hillary Greene novels, she also writes more classic-style 'whodunits' under the pen name Joyce Cato, but began her writing career as Maxine Barry, winning an award for penning romance novels! A popular writer for over 25 years, she has had nearly 50 novels published so far. Her hobbies include walking her now ageing dog, wildlife-watching,"reading and (reluctantly) gardening."
Links
Facebook:

htt

p

s:

/

/

w

w

w

.

f

a

c

e

b

ook

.

c

om

/

p

r

ofi

l

e

.

p

h

p

?i

d

=

1

0

0

0

1

9

0

4

7

5

7

2

0

0

5
Twitter: @faithmartin_nov