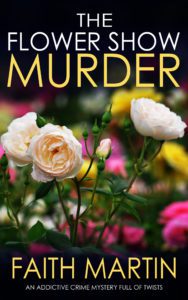 Monica Noble and her vicar husband Graham, who we met in the first book in the series The Vicarage Murder, are called upon to help judge at a flower show in a neighbouring village by their friend, another vicar James.
During the competition, James drops to the floor, dead. A second murder takes places almost instantly. But why? Are the murders linked or are two murderers on the loose?
DCI Jason Dury is called in to investigate but Monica can't help but do a little sleuthing of her own…
I enjoyed this book so much, as I do with all of Faith Martin's wonderful books. I liked the continuity of having the same police detective in charge of the case and the development of the relationship between him and Monica (this is in contrast to the Jenny Starling book where the amateur sleuth moves around so comes into conflict with a range of police forces).
We are provided with plenty of suspects and led to make assumptions about them: a clever misdirection by the author to keep us on our toes whilst reading!
There are plenty of touches of humour alongside the central murder plot which keeps the narrative light and enjoyable. There is no graphic content and the plot and characters are traditional and familiar, making this series suitable in age range for older teens through to grandparents.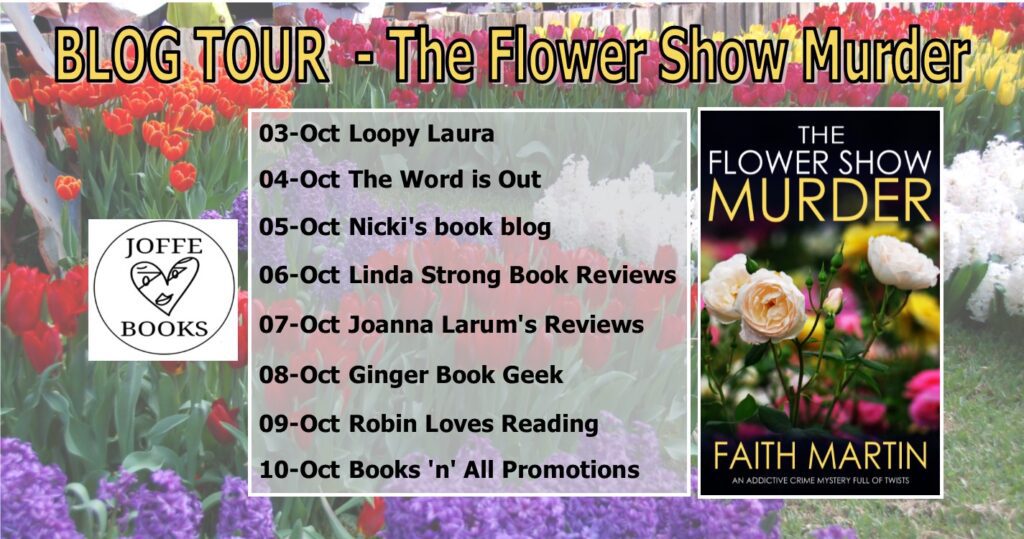 The Flower Show Murder by Faith Martin
Discover a new series of murder mysteries set in an idyllic English village. From million-selling author Faith Martin.
Meet Monica Noble: the vicar's wife with a taste for solving crimes.
Please note this book was first published as "UNHOLY WHIFF OF DEATH" under Faith Martin's pen name JOYCE CATO.
SMELL THE ROSES AND DIE!
Monica Noble is thrilled to be asked to judge a neighbouring village's flower show, even if she can't tell a begonia from an azalea!
Her fellow judge Vicar James Davies inhales deeply from a large bloom and drops dead in the tent.
At first everyone thinks he's had a heart attack, but the doctor on hand is

suspicious and calls in the police.
A second murder quickly follows, this time of one of the main suspects.
Monica must help the Chief Inspector Jason Dury to solve the two murders and find the killer —fast, before anyone else pays the ultimate price.
This is the second of a series of enjoyable murder mysteries with great characters and baffling crimes which will keep you gripped till the final page.
Perfect for fans of classic whodunits by author
s

like Agatha Christie, LJ Ross, TE Kinsey,

and J.R. Ellis.
MONICA NOBLE was widowed young, leaving her to raise her feisty daughter on her own. That is, until she met and fell in love with Graham Noble, a country vicar (pastor), who enticed her to leave her high-flying job in advertising in the city and move to the Cotswold countryside. There she found bucolic life very pleasant indeed — until murder started to rear its ugly head. And she discovered, to everyone's surprise, that she had a flair for solving the most unholy of crimes.
FAITH MARTIN is the million-selling author of the DETECTIVE HILLARY GREENE and JENNY STARLING mysteries, which have topped the global best-seller charts.
More MONICA NOBLE mysteries coming soon. Join the Joffe Books mailing list to be the first to hear about the next in the series.
MONICA NOBLE MYSTERIES
Book 1: THE VICARAGE MURDER
Book 2: THE FLOWER SHOW MURDER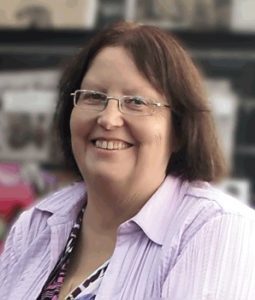 FAITH MARTIN
Faith Martin was born in Oxford, and has spent all her life within twenty miles of the university city, even working at Somerville College for five years before turning to writing full-time."The author of the popular DI Hillary Greene novels, she also writes more classic-style 'whodunits' under the pen name Joyce Cato, but began her writing career as Maxine Barry, winning an award
for penning romance novels! A popular writer for over 25 years, she has had nearly 50 novels published so far. Her hobbies include walking her now ageing dog, wildlife-watching,"reading and (reluctantly) gardening.