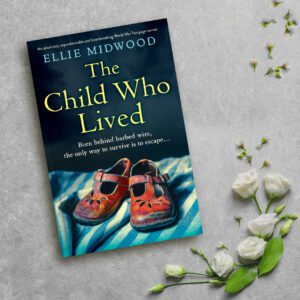 TRIGGER WARNING: Nazi brutality, rape and sexual slavery
1946, a man applies for divorce from his adulterous wife. But the judge listens to the wife's story as she explains her wartime experience in various prison camps…
The Child Who Lived is a highly emotional historical novel set during WW2.
 Lore puts her life in danger to help her Jewish neighbour and other Jews but is caught. Her kindly Nazi employer organises a good lawyer who gets her sent to a concentration camp instead of being executed. But can she survive physically and emotionally?
The camp experience is terrible but the strength of Lore's personality as well as her fellow inmates is truly inspiring. The events depicted in the book are heartbreaking and tragic but the characters provide bravery and love against all odds. Unpleasant and underrepresented topics such as sexual slavery and medical experimentation are not shied away from.
The majority of the book is written in chronological order to show Lore's experience in the camps. However, some chapters refer back to the divorce hearing with the judge. The second half of the book contains the love story between Lore and Wolf which results in her pregnancy. The tension mounts as the pregnancy progresses and the danger increases.
It is not an exaggeration to say that I practically devoured this book; I couldn't put it down and finished it in just a few hours. I was totally invested in Lore's story from the very start and wanted her to find happiness. There was a definite tear in my eye as this book ended.
The Child Who Lived is a beautiful, terrible, tragic and inspiring book about the power of love in the face of hate and war.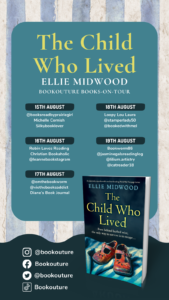 The Child Who Lived: An absolutely unputdownable and heartbreaking World War Two page-turner by Ellie Midwood
Austria, 1942: In Mauthausen concentration camp, two prisoners dare to fall in love. When a baby is born – a miracle baby born behind the gates of hell – they vow to escape. Inspired by true events, this powerful World War Two novel tells the incredible and inspirational tale of two ordinary people who risk everything to achieve the impossible.
As Lore is pushed through the towering gates of Mauthausen concentration camp, she holds little hope of ever leaving, knowing that usually death is the only way out.
But soon, when Lore meets fellow prisoner Wolf, she commits the ultimate act of resistance against the brutal SS by falling desperately in love, finding solace and hope in this hell on earth. And when Lore falls pregnant, they know they have to fight to not only survive, but escape.
Together they must achieve the impossible: bringing new life into a death camp, and risking their own to ensure their child who wasn't meant to survive, will become the child who lived…
Fans of The Tattooist of Auschwitz and The Choice will be incredibly gripped by this tearjerking page-turner. Based on true events, this unforgettable World War Two novel shows that even in darkness, love can sometimes find a way.

About the author
Ellie Midwood is a USA Today bestselling and award-winning historical fiction author, whose works have been translated into 14 languages. She owes her interest in the history of the Second World War to her grandfather, Junior Sergeant in the 2nd Guards Tank Army of the First Belorussian Front, who began telling her about his experiences on the frontline when she was a young girl. Growing up, her interest in history only deepened and transformed from reading about the war to writing about it. After obtaining her BA in Linguistics, Ellie decided to make writing her full-time career and began working on her first full-length historical novel, "The Girl from Berlin." Ellie is continuously enriching her library with new research material and feeds her passion for WWII and Holocaust history by collecting rare memorabilia and documents.
In her free time, Ellie is a health-obsessed yoga enthusiast, neat freak, adventurer, Nazi Germany history expert, polyglot, philosopher, a proud Jew, and a doggie mama. Ellie lives in New York with her fiancé and their two dogs.
Readers' Favorite – winner in the Historical fiction category (2016) – "The Girl from Berlin: Standartenführer's Wife" (first place)
Readers' Favorite – winner in the Historical fiction category (2016) – "The Austrian" (honorable mention)
New Apple – 2016 Award for Excellence in Independent Publishing – "The Austrian" (official selection)
Readers' Favorite – winner in the Historical fiction category (2017) – "Emilia"
Readers' Favorite – winner in the Historical fiction category (2018) – "A Motherland's Daughter, A Fatherland's Son"
Author social media
Instagram: @elliemidwood