Amber Dennis is a high powered lawyer with plenty of potential enemies. She begins to receive threatening emails which she ignores until her car is trashed and her phone is stolen. Her life is also endangered so she begins to take the threats seriously…
The Couple Next Door is a psychological thriller set in LA. I have previously reviewed The Perfect Suitor by Cole Baxter.
Amber is utterly ruthless and not a nice person. It was so difficult to like her despite the terrible things that start to happen to her. Her confidence is severely shaken when she starts to endure a hate campaign against her. But the list of potential culprits is pretty long as she makes enemies so easily.
The book is written from Amber's first person perspctive but even this fails to endear her to the reader as we see her machinations, unpleasant thoughts and less than scrupulous behaviour in her personal and professional lives. In some ways I admire Amber's ambition and she works within the law, but her moral decisions are difficult to excuse.
The writing is fast paced and there are plenty of dramatic incidents as the campaign against Amber escalates. I enjoyed the mystery of trying to work out who was responsible and their motive. My only gripe is the title doesn't seem to fit the book particularly well.
The Couple Next Door is an entertaining thriller and I liked the unlikeability of the main character.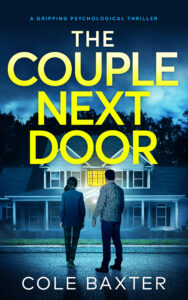 Book Blurb
A hotshot lawyer with the world at her feet. A stranger determined to destroy her.
Hotshot defense lawyer Amber Dennis has it all. She's a successful attorney and the proud owner of a luxurious new condo, an expensive car, and a fat bank account. Not to mention a blossoming relationship with the gorgeous David Grant.
Amber's perfect life is shattered when she starts receiving threatening emails. At first, she brushes them off. After all, she can't help but make a few enemies in her line of work.
But when the threats become more real, she can no longer ignore them. Someone out there wants to destroy her. Who could it be, and why are they targeting her?
As her world implodes, Amber decides she's not going down without a fight. She's determined to find out who is threatening her and why.
What she doesn't realise is her stalker is a lot closer than she thinks. And convinced that Amber has wronged them terribly, they'll stop at nothing to make her pay the ultimate price.
The Couple Next Door is a nail-biting psychological thriller that packs a powerful punch.

Author Bio
Cole Baxter loves writing psychological suspense thrillers. It's all about that last reveal that he loves shocking readers with.
He grew up in New York, where there crime was all around. He decided to turn that into something positive with his fiction.
His stories will have you reading through the night—they are very addictive!
Cole's Links: