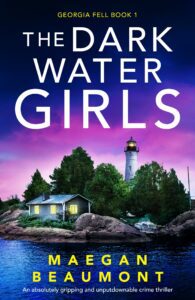 Former military police officer Georgia Fell returns to her hometown where she was abandoned at birth. She finds the body of her foster sister dead outside a bar but her lover, the sheriff Alex, rules out murder. Incensed, Georgia turns to the man she has been avoiding since her return: Lincoln…
The Darkwater Girls is a crime thriller and the first book in a new series.
Georgia is an intriguing lead character. She has been through a lot since birth and has a cynical opinion on human nature. This makes her feisty and determined to seek justice for those that are vulnerable like her younger self. She left Angel Bay a decade earlier and has returned to claim an inheritance she feels is not hers. She needs to confront the past and protect her heart as she meets Lincoln again.
The book is mainly written from the two first person perspectives of Georgia and Lincoln. I liked that we can see the internal emotional upheaval and mental wrangling that they endure as they tentatively develop a new friendship.
Georgia has a strong emotional tie to the plot. She was fostered and is keen to help other children in the same situation. A text message from one foster sister leads her to discover the body of another. There appears to be a cover up as the sheriff denies any signs of foulplay and again this has a personal edge as the sheriff is her boyfriend.
The Darkwater Girls is an entertaining crime thriller with a sparky and unique lead character. I enjoyed the introduction to Georgia and her back story and look forward to seeing what happens next.
MEDIA PACK
Book: The Darkwater Girls
Author: Maegan Beaumont
Pub Day: Nov 4th 2021
Buy Links:
Audible:
About the Book:
Recognition hits me as I look at the woman lying in the long grass. It's my sister. Her hot-pink nails are chipped and caked with dirt, her blue eyes are cold and vacant. I desperately shake her, even though I know. She's gone.
Fresh out of the Military Police, Georgia Fell has returned to her Michigan island hometown a decade after she ran away. Late to meet her younger sister at a bar on the isolated tip of the isle, she arrives to her worst nightmare: Rachel dead, purple bruises around her slim, beautiful neck.
When the police rule out murder, Georgia knows it can't be true. Reluctantly, she must turn to the person she's been avoiding since she came home. Georgia can't forgive single dad Lincoln McNamara for his betrayal the night she left, but he has an in with the dangerous crew operating out of the roadhouse where Rachel was killed. The question is, can she trust him?
But before she can convince Lincoln to help her, another local girl goes missing. How deep into the darkness of island life must Georgia go to find out the truth? And with an innocent girl's life on the line, does she even have a choice?
An absolutely unputdownable suspense thriller. Readers who adore Tami Hoag, Mary Burton and J.D. Robb will be hooked on this jaw-dropping new crime series.

Author Bio and Social Media
Maegan Beaumont is the award-winning author of the Sabrina Vaughn thriller series. Her debut novel, CARVED IN DARKNESS was awarded the 2014 gold medal from Independent Publishers for outstanding thriller as well as being named a Foreword Book of the Year finalist and Debut Novel of the Year by Suspense Magazine. When she isn't locked in her office, torturing her protagonists, she's busy chasing chickens (and kids), hanging laundry and burning dinner. Either way, she is almost always in the company of her seven and a half dogs—her truest and most faithful companions—and her almost as faithful husband, Joe. She also writes hot contemporary romance as USA TODAY best-selling author, Megyn Ward.