Henry Frazer wakes up one morning to find he is dead. He can't believe it! The only person who can see him is Rita, a supermarket worker that he has met on several occasions. Henry asks her to help him discover what has happened to him.
This book was so clever and enjoyable. Henry gradually comes to realise that his happy life is not quite what he imagined. It is very thought provoking as it makes the reader consider what they are taking for granted in life and what changes you would make it you knew death was on its way.
The Day Henry Died is described as a supernatural romance but I feel that this label doesn't adequately represent the nuances of the book. Friendship and love seem more apt than romance whilst there are light hearted moments as well as a black humour. It really is difficult to categorise this book!
Henry's gradual realisation, first about his death and then about his life, is absolutely fascinating to read. He is perhaps not a very sympathetic character at the start and I pitied his poor wife especially as we glimpse their married life through flashbacks.
Rita's character is also wonderful. She has a terrible vulnerability due to her childhood and the death of her father. Now she is living in a small bedsit with a lecherous landlord. The ending of the book is heartbreaking for both Henry and Rita, but I won't give away what happens…
The Day Henry Died was completely different in terms of style and genre compared to Lynda Renham's other book that I have reviewed previously: She Saw What He Did. However, both were excellent!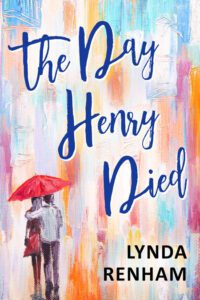 Blurb:
Suppose you wake up one morning to find yourself dead. You can see yourself clearly in the mirror, and feel the same as you did the day before. But today is the day of your funeral. What do you do?
This was Henry's dilemma. Henry decides he can't possibly be dead, so he sets out to prove he is alive. Then, he discovers that Rita, a product demonstrator at the supermarket, can see him.
Even with the help of Rita, proving you're not dead was harder than Henry imagined, but when Henry discovered that he was murdered, the question was why and by whom?
Author bio
Lynda Renham is author to many popular romantic comedy and gripping psychological thriller novels. She lives in Oxford, UK. She has appeared on BBC radio discussion programs and is a prolific blogger, Twitter and when not writing can usually be found wasting her time on Facebook. Lynda lives in Oxfordshire with her second husband and two cats. Her web page: www.renham.co.uk and Twitter: @lyndarenham
Social media links:  www.renham.co.uk  Twitter: @lyndarenham
Buy links:
Kindle price: £1.99 / $2.45