A barmaid is found dead, her jewellery stolen. An abused wife with mental health issues goes missing, leaving behind only a pool of blood. DS Helen Carter, a tenacious cop in an era when women were treated as inferior, is determined to find the missing woman and solve the murder.
The Evidence is the second book by Jodie Lawrance to feature Helen Carter (I have reviewed The Uniform previously). There are some mentions of events in the previous book as well as character relationship developments.
Helen remains a determined cop despite the continued misogyny amongst her colleagues. Again I was strongly reminded of Life on Mars TV series due to the attitudes of the police and public towards female officers.
In her personal life, Helen's ex Ted is still on the scene hoping for a reconciliation whilst her colleague Terry also seems interested but his ex keeps turning up. Helen doens't really want either of them! Her superior officer Jack Craven has a personal health issue as well as angst with his ex wife.
The murder investigation plays second fiddle to the missing woman case as they fear for her safety and have more clues to work on. There were plenty of suspects acting suspiciously including one connected to Craven which further exacerbates his personal situation.
Once again Edinburgh and the 1970s were brought to life through the writing style. The use of accents in the dialogue brought the characters to life and the setting gave the novel a realism that readers can relate to.
The Evidence is an enjoyable police and crime drama novel.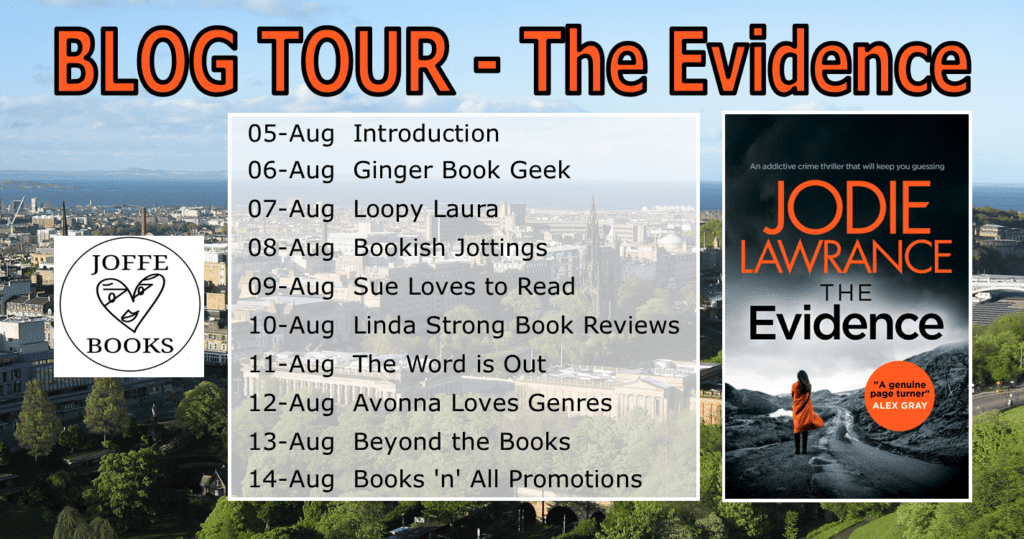 THE EVIDENCE (Detective Helen Carter #2) by Jodie Lawrance
SHE'S OUT OF UNIFORM BUT SHE'S STILL IN THE LINE OF FIRE.
Introducing the stunning follow-up in a thrilling new Scottish crime series starring Detective Helen Carter.
A young barmaid is found dead. She was murdered on her way home from work to look after her sick son.
Then another woman, Moira McKenzie, goes missing. All that's left behind is a pool of blood and shattered glass.
Someone is terrorizing the women of Edinburgh and Detective Helen Carter means to stop them.
Helen is certain that Moira's library records hold the key to her disappearance. But now she must convince her boss, Detective Inspector Jack Craven. And he doesn't listen to her at the best of times . . .
Then another woman who suffered a similar attack to the murdered barmaid comes forward.
Helen knows the race is on to find Moira alive.
Fans of Ashes to Ashes, Caro Ramsay, Helen H. Durrant, J.D. Kirk, Angela Marsons, Rachel McLean, Val McDermid and Alex Gray will love this retro Scottish crime series set in the 1970s.
WHAT READERS ARE SAYING ABOUT JODIE LAWRANCE'S DEBUT NOVEL, THE UNIFORM:
"[Jodie Lawrance] is a writer to take note of right now. In terms of style and content it will appeal to fans of Ian Rankin, Val McDermid and Christopher Brookmyre, but there is something else going on. With the action starting at a rapid pace from the off, and not letting up till the last page, you could read it as a straightforward crime novel and you will not be disappointed." Scots Wae Hae magazine
⭐⭐⭐⭐⭐ "Such a great debut story. I loved it and can't wait till the next one . . . Recommended for anyone who wants a new detective story to get into." Michelle
⭐⭐⭐⭐⭐ "A promising start from an exciting new author. It's a police procedural based in Scotland, set in the 1970s. Featuring newly promoted Detective Helen Carter, it's well researched into attitudes towards women at that time. An addictive read, cleverly plotted. I am looking forward to reading the next in the series." Carol
⭐⭐⭐⭐ "Wow! I devoured this book in literally one sitting. This was a fast-paced thriller. With amazing characters. I'm so excited to have another book to look forward to reading! I'm hoping it's released sooner than later! Can't wait!" Rubie
⭐⭐⭐⭐ "This is a good start to a new series and I am already looking forward to the next book in the series." Barbara
⭐⭐⭐⭐ "I thoroughly enjoyed The Uniform, which is a good start to a new series." Elaine
MEET THE DETECTIVE
Detective Sergeant Helen Carter is used to getting a rough time of it at work. As one of the few women officers around, she has heard it all before: she's only there as a box-ticking exercise, or she only got the job because of her father, who was a detective inspector. But she can handle it. She knows she can hold her own against any man on the force. The only thing she can't handle, however, are the constant fights with her fiancé, Ted.
THE SETTING
Edinburgh CID in the 1970s is on the third-floor of the ugly, modern concrete lump that is the police station. On a sunny day, you can look right out to Arthur's Seat. And on any day, you can see spotty-faced, bored teenagers coming and going from the local high school across the road. With its historic cobbled streets and fair share of deprivation, Edinburgh police are up against every type of criminal imaginable.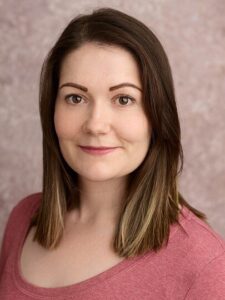 JODIE LAWRANCE
Jodie graduated from Manchester Metropolitan University in 2018 with an MA in Creative Writing. When not writing, she is also an actress and has appeared in a variety of television, stage and film.
She's also a contributor for BBC The Social.
FOLLOW JODIE ON