Alice and Joe move from London to Penton for a change of pace but soon find themselves embroiled in a murder investigation! A shopkeeper dies during their antenatal class in his shop which also boasted a birth. Can Alice find the killer before her due date?
The Expectant Detectives is a light hearted cosy murder mystery.
Alice is a bit hapless to say the least. Now she is catapulted into village life and a murder case. There is soooo much humour in this book. Mums everywhere will identify, cringe and laugh along with the pregnancy and baby details. There were some guffaw out loud moments and knowing sniggers throughout as Alice rattles through the lead up to giving birth as well as investigating a murder.
There are a whole host of suspects including the others in the antenatal class. I liked the way that Alice negotiates her new friendships whilst also being wary of her fellow amateur sleuths. Alice's husband Joe is acting oddly and I did guess this twist about a hundred pages before it was revealed. However, the final outcome of the murder case had me guessing until the end so the mystery was maintained well.
The book is written in Alice's first person voice to show her innermost thoughts. She is such a wonderful character and I loved her zany thoughts. Of course she is ably assisted (or not!) by her nightmare dog Helen and this again brought many moments of humour.
The Expectant Detectives is a wonderful book and even more impressive once you know it is a debut novel!

For Alice and her partner Joe, moving to the sleepy Cotswold village of Penton is a chance to embrace country life and prepare for the birth of their unexpected first child. He can take up woodwork; maybe she'll learn to make jam. But the rural idyll they'd hoped for doesn't quite pan out when a dead body is discovered at their local antenatal class and they find themselves suspects in a murder investigation.
With a cloud of suspicion hanging over the heads of the whole group, Alice sets out to solve the mystery and clear her name, with the help of her troublesome dog, Helen. However, there are more secrets and tensions in the heart of Penton than first meet the eye. Between the discovery of a shady commune up in the woods, the unearthing of a mysterious death years earlier and the near-tragic poisoning of Helen, Alice is soon in way over her head.
CAN YOU SOLVE THE MOTHER OF ALL MURDERS?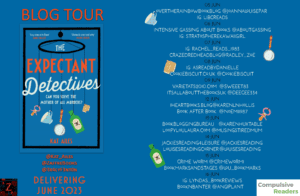 Author info
Kat Ailes' debut novel, The Expectant Detectives, was runner-up for the Comedy Women in Print Unpublished Prize 2021. She works as an editor and freelanced for several years to allow her to take a couple of belated gap years, including hiking the Pacific Crest Trail from Mexico to Canada. She now lives in the Cotswolds with her lovely husband and son and her beautiful but foolish dog.