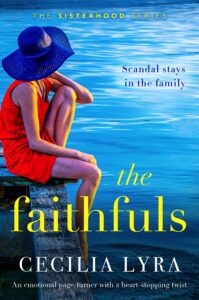 The Dewars own Alma Boots, an all American family business that has created its own township and community. But the society and family are devastated by claims that CEO Bobby Dewar has had an affair. His wife Gina doesn't know if she can trust him but soon other family secrets risk being made public too…
The Faithfuls was a family saga that pulled me in straight away with high levels of drama from the very beginning. It seemed like every member of the family was harbouring a secret and I felt an emotional connection to each person. Bobby and NIck have been pitted against each other their whole lives. Gina and Alice both gave up their careers to support their husbands.
The chapters each focus on a perspective of one of the main characters or are interviews with various townsfolk. Image versus reality, small town gossip versus big business, truth and lies: these are all cleverly evoked by the format of the interviews. There were so many possible solutions running through my head and I had no idea what revelations would appear next.
There is an undertone of politics, especially gender relations, which is really topical and well developed in the book. The characters all had a natural feel to them and their responses to events in the book seemed realistic which drew me in even further. Sibling rivalry, parental favouritism, the tricky relationship with in laws, are all relatable concepts too.
Overall, The Faithfuls was hugely enjoyable. The plot developed at a reasonable pace whilst still providing enough time to make the reader think about the potential outcomes as well as the underlying themes.
Nick and Alice Dewar's therapist is mentioned a few times and she featured in Cecilia Lyra's other book The Sunset Sisters which I have previously reviewed.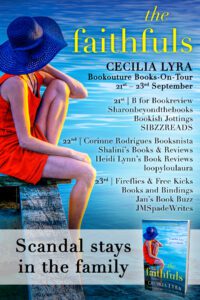 The Faithfuls book description:
A summer house in the Hamptons doesn't always buy happiness, as one woman is about to find out…
For fifteen glorious years, Gina Dewar has been married to her college sweetheart Bobby. Years in which she has lived in the small company town of Alma, New York, lovingly raised their son Calan, been secretary of the Alma Social Club, and tried not to think too often of the family she said goodbye to when she became a Dewar.
But then Bobby is publicly accused of having an affair, and Gina's life changes overnight, overwhelmed with scandal, speculation and the agony of uncertainty.
Gina's sister-in-law Alice is her polar opposite, she has never appreciated the traditional values of Alma, or tried to fit in with its quaint neighborliness. But in these devastating circumstances, could she be the one person who can help Gina piece her life back together?
After Gina makes the decision to trust Bobby, who has claimed his innocence all along, she hopes her family can move forward. But then she hears the rumor that his supposed mistress is pregnant and she is shaken to the core. With Alice's unexpected support, Gina must face up to the secrets within her marriage, and do whatever she can to protect the people she loves…
The Faithfuls is a moving, emotionally gripping novel about family secrets and the unbreakable strength of female friendship. A stunning new read for fans of Elin Hilderbrand, Dorothea Benton Frank and Nancy Thayer.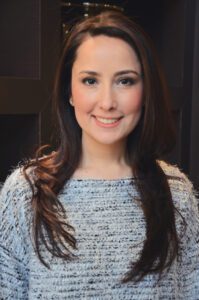 Author Bio:
Cecilia is an author with a reading addiction — a serious one. She is a lover of wine and all things chocolate, and the proud mother of Babaganoush, an English Bulldog. She is also a recovering lawyer, but asks that you do not hold that against her.
Buy Links: