TRIGGER WARNING: rape, child abuse
Janette Gregson is mourning the death of her mother, quite agoraphobic and suffers panic attacks. She is brutally raped at home and gives birth nine months later…
The Family at No 12 is a dark psychological novel.
I initially felt great sadness for Janette. She has been severely affected by her abusive mother and leads a reclusive life. Her safety is compromised by the invasion of a rapist and her subsequent pregnancy. However, her neglect and cruelty towards her child, including not even naming her, is truly upsetting.
The second part of the book focuses on Janette's daughter. I really found myself with a mix of emotions at the damage she has endured but her actions towards others are cruel. In my opinion, the final section of the book was the least credible and I felt that there were some loose ends. I was expecting a particular twist and it never happened but the ending had other twists which I didn't feel were particularly believable.
The dark tone and upsetting content make this book impossible to 'enjoy'. However, it is very engaging due to the strength of the writing. I really felt strong emotions towards the characters and was gripped by the plot developments. Janette and Marta both suffer due to their mothers' actions but then inflict unhappiness upon others.
The Family at No 12 is hard to enjoy due to the dark content but it is fascinating as the characters evolve.
I have previously reviewed One Hot Summer by Anita Waller.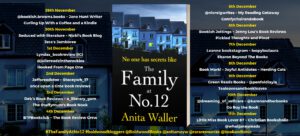 The Family at No. 12
When Janette answers the door to a potential customer looking to board his dog, she never imagines he has nefarious plans.
But minutes later he's dead and in her cellar.
Weeks later she realises she's pregnant.
And so she becomes Mother and the baby Child, and a hidden life begins.
But all secrets come out eventually . . .
Author Bio –
Anita Waller is the author of many bestselling psychological thrillers and the Kat and Mouse crime series. She lives in Sheffield, which continues to be the setting of many of her thrillers, and was first published by Bloodhound at the age of sixty-nine. Her first book for Boldwood will be published in August 2022.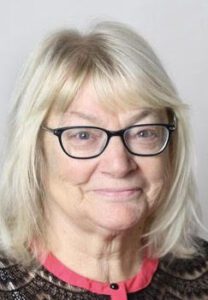 Social Media Links –