Two teens burn to death after trespassing into a summer house. Was the fire accidental and was the property owner to blame or the target? Henshall and Peters begin to investigate an emotional case which grows in scale as developments shock the community…
One Hot Summer is a police thriller set in Sheffield, England. It is the first book that I have read by this author but won't be the last!
We are dropped straight into the action as a fire spreads through a summer house. The deaths of the two teens is hugely emotive and the reaction of their families felt authentic. Sadly, these are not the only deaths and the arson attacks escalate rapidly. The whole police team are dedicated and determined to bring the killers to justice.
However, it is the fledgling relationship between Laura and Will that really captured my imagination. They are struggling to negotiate a romance alongside their professional lives but their colleagues are all supportive. I enjoyed seeing their softer sides which contrasted with their steely resolve to catch the killers.
The book is full of action and quite fast paced. I did guess the arson ringleader but this did not spoil my enjoyment of the book. The ending was totally shocking but I'm avoiding spoilers!
One Hot Summer was a gripping police novel and I loved the two main detectives.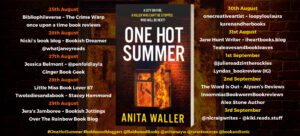 One Hot Summer
A city on fire. A killer who can't be stopped. Who will be next?
When two teenagers are found dead in a fire, DI Laura Henshall and DS Will Peters are called in to investigate. They believe it was a revenge attack gone wrong.
But soon fires are cropping up everywhere, and the police suspect they're dealing with something much bigger . . . something that could bring the city to its knees.
With time running out, can the detectives find the arsonists before the city goes up in flames?
Author Bio –
Anita Waller is the author of many bestselling psychological thrillers and the Kat and Mouse crime series. She lives in Sheffield, which continues to be the setting of many of her thrillers, and was first published by Bloodhound at the age of sixty-nine. Her first book for Boldwood will be published in August 2022.
Social Media Links –