Kay has reached the end of her tether. Her ex husband is vying for their children's affections and flaunting his new lover. Her colleagues are sexist and she is passed over for promotion. Then a smug idiot cuts her up in traffic and she snaps. Kay damages his car and starts a bitter and dangerous feud…
The Feud is a psychological thriller with a big dose of domestic drama.
I felt immediately allied with Kay as she battles against men who patronise her and reject her in both her personal and professional life. The book is written from Kay's first person perspective so we can understand her emotions and actions. Whilst I would never condone criminal activity, I could easily see how she has been pushed to her limit and acted on impulse.
There is plenty of danger and suspense as we wonder what lengths Simon will go to and Kay fears for the safety of her family. Simon is like a villain from a melodrama, without a single redeeming feature. He is overtly and insidiously threatening in his behaviour which ramps up the tension. I found that I had to suspend my disbelief a little and just enjoy the dark plot twists.
On the drama side of the plot, Kay is dealing with issues concerning her ex and her job. Both are having a detrimental effect on her life and she needs to confront both in order to move on. These elements to the plot felt much more realistic to me and could easily have been the premise for the whole book.
The Feud is an enjoyable mix of dangerous thrills and personal battles with a really strong lead character.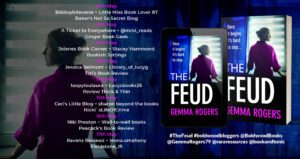 The Feud book blurb
From the stranger in the car, to the madman at her door…
The day my path crossed with Simon Fox I thought I'd already lost everything but then he ran me off the road with his flash car and belittling jibes.
The men in my life had undermined me for too long.
Enough was enough.
Fuelled by alcohol and the desire to get even, I decided a spot of petty vandalism would make me feel a whole lot better.
Wrong. Very wrong…
I hadn't realised that Simon Fox was not a man to be messed with.
He showed me just how much I still had left to lose.
Soon I was battling for my home, family and life.

Author Bio –
Gemma Rogers was inspired to write gritty thrillers by a traumatic event in her own life nearly twenty years ago. Her debut novel Stalker was published in September 2019 and marked the beginning of a new writing career. Gemma lives in West Sussex with her husband, two daughters and bulldog Buster.

Social Media Links –