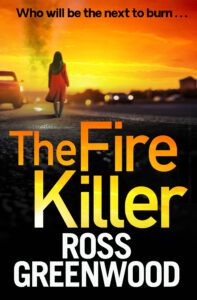 A skip burns. When the flames dies down, the fire brigade find a charred body. DI Barton needs to discover if the death was deliberate and the fire intentional, or could both have been accidental…?
The Fire Killer is the 5th book in the DI Barton series and I have reviewed the previous book The Cold Killer.
The book is mostly written from DI Barton's third person perspective. However, there are some chapters written from the Fire Killer's viewpoint and this made me sympathetic to them due to their past.
I found the pace of the book to be rather slow and it was less dramatic than the previous book. The number of suspects narrows down quite early on and all seem to have had the opportunity to set the fire. DI Barton needs to sift through the alibis and detect potential motives in order to make sense of the two strands to the case.
I enjoyed the personal life of the officers especially John Barton. It is quite refreshing to have a police character with a settled and happy home life. Meanwhile there is a love triangle between other officers in the team which allows for some great banter between the characters.
The Fire Killer is a solid police procedural novel with a great lead detective.

The Fire Killer
When DI Barton is asked to investigate a seemingly innocuous fire that kills, he believes it's either children fooling around or a worrying racially motivated crime.
As he delves deeper into the case, he soon realises that there is a history of similar blazes spread out over many years, all within a close area. And after an idea is suggested by pathologist Mortis, Barton suspects he has the arsonist's motives wrong.
When a night worker comes forward with a tip, Barton narrows down the suspects. Yet all of them act suspiciously and he knows for sure that one or more of them are lying. And when a huge house blaze shocks everyone, Barton fears the killer has lost all control.
Who is The Fire Killer? What will be next to burn?
Author Bio –
Ross Greenwood is the bestselling author of ten crime thrillers. Before becoming a full-time writer he was most recently a prison officer and so worked everyday with murderers, rapists and thieves for four years. He lives in Peterborough.

Social Media Links