Ria has been on sabbatical after the death of her best friend Livvy after an apparent drugs related accident. Now she has run out of money and argued with her mum so is forced to return to her home and job. But she finds a new flatmate who has also taken Livvy's job. Is Ria too sensitive or does Amanda have a dark motive?
The Flatmate is a psychological thriller set in the UK.
Ria had been through a tough few months following the accidental death of her friend Livvy. But Ria can't believe that Livvy would have taken the drugs that led to her death and this raises suspicions about who could have been responsible. Ria went off the rails making extreme accusations and was sent on leave to recover her mental health. Now she is back and finds another woman living in her flat. Amanda seems ok but Ria doesn't trust her at all. Amanda has Livvy's old job and is interested in Ria's ex. Are Ria's concerns real or is she projecting her own fears and neuroses?
The book is written from the first person perspective of Ria. However the opening chapter shows us Livvy's death which is hugely emotive to read and there are then later chapters that show scenes from Livvy's life. We are aligned with Ria's view while she struggles to adapt to life back home as well as grieving for her friend.
Sinister things begin to happen when she returns to the flat. She receives phone calls from Livvy and a bouquet of black roses. There is plenty of tension and mystery as the plot progresses and Ria becomes more suspicious of Amanda. I enjoyed the twists as Ria makes discoveries and endures upsetting reminders of Livvy.
The Flatmate is a tense and mysterious psychological thriller.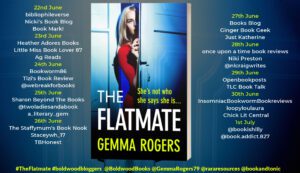 The Flatmate
Always trust your very basic instincts or prepare for the consequences…
It was surreal returning to work after a five-month enforced sabbatical following the suspicious death of my best friend Livvy at a work event. I was grateful for the time away to grieve and had slotted straight back in work But a surprise awaited my return. Amanda Dowd, Livvy's replacement, was firmly entrenched as my new flatmate in the company apartment. Something didn't feel right, I felt on edge. But everyone seemed to love Amanda.
Even my ex-Jayden was blinded by her outgoing personality and model looks. Yet her desperation to become friends felt unnatural. When I began to receive calls, photos and presents supposedly from Livvy, I became spooked… someone was targeting me, watching me. With my job, home and life on the line, I had to find out who was doing this to me. I knew I hadn't caused Livvy's death; I still believed it was no accident. Someone else was guilty and I had to find out who before I was next…
Bestseller Gemma Rogers is back with another page-turning thriller.
And how far would they go to keep their secret?
Author Bio –
Gemma Rogers was inspired to write gritty thrillers by a traumatic event in her own life nearly twenty years ago. Her debut novel Stalker was published in September 2019 and marked the beginning of a new writing career. Gemma lives in West Sussex with her husband and two daughters.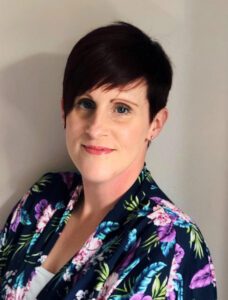 Social Media Links –