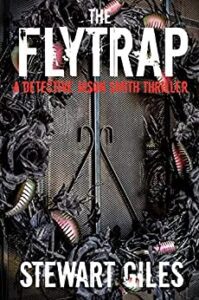 A virus is threatening the planet and teens are killing themselves and others. DS Jason Smith is convinced that his nemesis is behind the sinister acts but can he persuade his superiors…?
The Flytrap is the 24th book in the Smith series. There are mentions of past cases but there is enough information to catch us up without spoilers.
The start of the book is explosive to say the least! Two teens set off grenades in their family homes and the community is reeling in shock. Smith feels there is a link to an old case and that the elusive Natasha Zeb is behind the deaths, using a computer network known as the flytrap to influence vulnerable teens.
This series of books is one of my favourites and this book was no exception. The writing style is easy to read and dialogue led. Smith has great relationships and banter with family, colleagues and even suspects. He says what he thinks even when it gets him into trouble but he is clever enough to respect people's skills even when he has a personality clash with them.
The whole concept of the book is horrifying and the deaths are quite shocking. I liked the way that the author manages to get emotion into the police characters whilst maintaining their professional determination. The ending has big twists (I had guessed one), big drama and big action! Wow!
The Flytrap is a brilliant book in a fantastic series.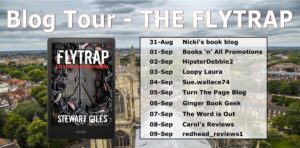 The Flytrap (A DS Jason Smith Thriller Book 24)
From bestselling author: Stewart Giles comes another brilliant addition to the Detective Jason Smith series.
The Venus flytrap. – If you get too close – you're dead.
A new craze is taking the city of York by a storm.
An online site is daring the teenagers of the historical town to do things they never would have dreamed of before.
There's talk of a mystery virus that could wipe out mankind, and the young minds are taking it all in. They don't want to die without having lived first and Flytrap.net promises to give them life before their inevitable death.
Detective Smith realises he's dealing with something totally new when the first bodies turn up. A teenage boy has detonated a hand grenade inside his living room, killing his entire family.
It soon becomes clear that Smith and the team aren't equipped to deal with what the city is calling a cyber-attack on teenagers, and the case is taken off his hands.
But as more young people fall to Flytrap.net, Smith finally gets a break. But it's a break that will make him question whether humanity still exists.
The Flytrap is a different kind of killer, and it's one that makes Smith wonder whether there is still a place for him in the world.
What readers are saying about THE FLYTRAP
I thought this an unusual investigation for Smith, deeply disturbing and shockingly packed with  intense drama.  However it's so completely gripping that it's definitely a 5 star from me. – Carol
A truly stunning, memorable read (for all the right reasons!). Wow! This book blew me away (every pun intended!) – Misfits Farm
The characters are very well described, and you are pulled into the story, becoming totally engrossed in it. I ended up down a few garden paths following the rumours and the misdirection was certainly unexpected. A great read. – Maureen
Everything I want from a crime thriller and more this is an absolutely stunning read that kept the adrenaline pumping all the way to the very end. – Reading Addict

Stewart Giles – Author Bio
After reading English at 3 Universities and graduating from none of them, I set off travelling around the world with my wife, Ann, finally settling in South Africa, where we still live.
In 2014 Ann dropped a rather large speaker on my head and I came up with the idea for a detective series. DS Jason Smith was born. Smith, the first in the series was finished a few months later.
3 years and 8 DS Smith books later, Joffe Books wondered if I would be interested in working with them. As a self-published author, I agreed. However, we decided on a new series – the DC Harriet Taylor: Cornwall series.
The Beekeeper was published and soon hit the number one spot in Australia. The second in the series, The Perfect Murder did just as well.
I continued to self-publish the Smith series and Unworthy hit the shelves in 2018 with amazing results.  I therefore made the decision to self-publish The Backpacker which is book 3 in the Detective Harriet Taylor series which was published in July 2018.
After The Backpacker I had an idea for a totally new start to a series – a collaboration between the Smith and Harriet thrillers and The Enigma was born. It brought together the broody, enigmatic Jason Smith and the more level-headed Harriet Taylor.
The Miranda trilogy is something totally different. A psychological thriller trilogy. It is a real departure from anything else I've written before.
The Detective Jason Smith series continues to grow. I also have another series featuring an Irish detective who relocated to Guernsey, the Detective Liam O'Reilly series. There are also 3 stand alone novels.
Twitter: @stewartgiles