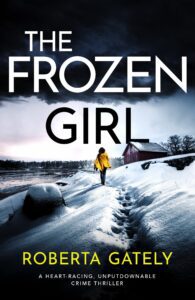 Jessie Novak is an ER nurse working in liaison with the police. A body is found with a link to the hospital and Jessie is determined to find the killer but uncovers a host of personal and professional secrets along the way…
The Frozen Girl is the second book to feature Jessie but it is the first that I have read. There are no spoilers about events in the last book.
I loved the beginning of the book with the garbled and hesitant 911 call. As someone who has never needed to call emergency services, this felt very realistic! We then get into a dramatic scene in the emergency room where Jessie shines, and then the murder takes priority. There is some forensic detail of the autopsy but it is objective rather than grisly.
Jessie had an antagonistic relationship with the victim but is shocked to find herself a suspect as well as investigating the case. She is also uncertain in her new role liaising with the police, especially as the lead officer is giving her mixed signals.
Jessie also has issues in her private life in the form of her mother who turns up after abandoning her as a child. This, combined with the romantic tension, adds a more emotional tone to the book and makes her more engaging as a character.
The murder case itself is dominated by the hunt for the killer and the danger to Jessie which ensues. Evidence seems to point in one direction but Jessie is adamant that the police are being misdirected by the real killer.
The Frozen Girl is an engaging police thriller with a personable lead character, and I'll be off to search out the first book in the series!
CURRENT Media Pack
Author:      Roberta Gately
Book:                   The Frozen Girl  
Publication Day: May 18th 2021
Buy LINK  
Description:
The young woman's mouth is slightly parted, as if waiting to speak. Her body is frozen in ice and her blue eyes stare at the sky, perhaps wanting to look at the stars one last time…
When the body of a woman is found in the frozen Neponset River, just where it meets the sea, Jessie Novak and her partner Detective Sam Dallas rush to the scene. When Jessie sees a flash of a familiar silk scarf, she's shocked to realize the girl in the ice is Sheila Logan, who she worked closely with for years at Boston City Hospital. Jessie desperately wants to find out how this young and talented nurse ended up an innocent victim.
But who would want to kill her? As she digs into Sheila's past, Jessie realizes she was having an affair with a colleague and may even have been pregnant. Was her lover unwilling to be a father to her child? The pain of Sheila's death threatens to tear open Jessie's old wounds—Jessie's own mother walked out on her when she was just a baby and never looked back. She can't change her own past, but she's determined to get justice for Sheila.
When Sheila's neighbor is found dead, also wearing a distinctive scarf, Jessie sees a lethal pattern forming. Next, someone breaks into Jessie's car and she knows she's being warned off the case. But with the killer in her sights, will she take the deadliest risk of her life? Can Jessie catch him, before he catches up to her?
This utterly addictive novel will keep you up all night! Fans of Lisa Regan, Rachel Abbott and Tess Gerritsen will be totally hooked until the last heart-thumping page.
 
Author Bio:
Roberta Gately, lives in Boston where she works as a nurse at the Boston Medical Center. It was in the ER where she developed an interest in the investigations behind the crimes and the victims she encountered. Working in a busy ER is much like being a detective—the search for answers is a methodical process, not unlike the work required to solve a murder!
Her crime series with Bookouture stars the brave and brilliant ER nurse Jessie Novak who teams up with her detective friend to solve tricky Boston murder cases. Expect addictive mysteries, breathtaking suspense and a gutsy heroine you'll never forget. When she's not writing or working at the hospital, Roberta enjoys reading, working out and spending time with friends and family.
She has also worked in humanitarian aid, providing medical care in some of the world's bleakest spots ranging from Africa to Afghanistan. Her two previous novels, Lipstick in Afghanistan and The Bracelet were based upon her experiences of nursing abroad. Her memoir—Footprints in the Dust tells the true stories of some of the extraordinary people she met.
Author Social Media Links
Roberta loves hearing from readers and you can get in touch with her using the links below.