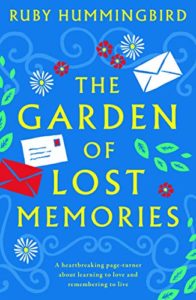 My heart has only just recovered form Ruby Hummingbird's last book, The Wish List of Albie Young. I was a little worried that there was no way the author could follow up such a book but, goodness me, she has!
The Garden of Lost Memories is the tale of an unlikely friendship between a woman in her 60s and her 10 year old neighbour. Elsie lives alone following the death of her mother. She has a set routine and limited social interaction. But when Billy and his mum run away from his abusive dad and move in next door, Elsie offers to help babysit Billy to allow his mum to work.
Working together in the garden, Billy finds an old biscuit tin with secrets that have been buried for decades. This sparks a series of adventures, hope and tears…
The Garden of Lost Memories is a highly emotional book to read. Both main characters are desperate to be loved and accepted, making this book so human and every reader will be able to relate to them.
The sadness of Elsie and Billy is shown through the dual perspective narrative and makes us identify with both characters equally. Despite dealing with big subjects like grief and domestic abuse, this is a gentle and warm book to read so they are handled subtly and sensitively.
The bullying and unhappiness at being separated from his dad is so raw and powerful, heartbreaking for anyone to read but especially for a mum imagining her own child in that situation. Equally, I can understand the quiet loneliness of loss and a life only half lived as Elsie has experienced.
Ultimately this is a book of hope: that life can change, that love can endure and that the heart can mend.
Beautifully written, achingly emotional and simply brilliant.
Book Description: The Garden of Lost Memories
Just because you feel ordinary doesn't mean you aren't extraordinary to someone else.
Sixty-two-year-old Elsie knows what she likes. Custard creams at four o'clock, jigsaw puzzles with a thousand pieces, her ivy-covered, lavender-scented garden.
Ten-year-old Billy would rather spend his Saturdays kicking a ball, or watching TV, or anything really, other than being babysat by his grumpy neighbour Elsie and being force fed custard creams.
If it was up to them, they'd have nothing to do with each other. Unfortunately, you can't choose who you live next door to.
But there is always more to people than meets the eye…
Elsie doesn't know that Billy's afraid to go to school now, or why his mother woke him up in the middle of the night with an urgent shake, bags already packed, ready to flee their home.
Billy doesn't know that the rusting red tin he finds buried in Elsie's treasured garden is a ticking time bomb waiting to explode her carefully organised life. And that when he digs it up, he is unearthing a secret that has lain dormant for twenty-eight years…
This moving tale is for anyone who has ever felt the pang of loneliness, or worried that their broken heart might never be the same again. Fans of Eleanor Oliphant is Completely Fine, The Keeper of Lost Things and The Library of Lost and Found will fall head over heels for this life-affirming novel that shows us that if you're willing to take a risk, happiness is only ever a heartbeat away.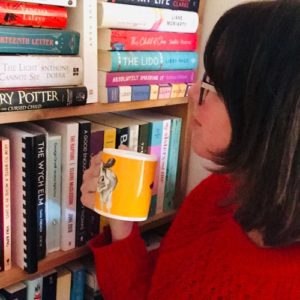 Author Bio:
Ruby Hummingbird is a novelist based in the English countryside. She loves nothing more than writing uplifting and heartwarming fiction that gets her readers reaching for the tissues. When she isn't storytelling, she can be found tending to her beloved sunflowers or sipping on hazelnut lattes.
@HummingbirdRuby
Buying Links: