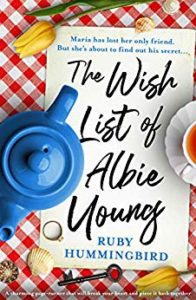 Maria's life runs like clockwork, her week structured to get chores done. Her favourite day is Thursday when she meets Albie in a cafe. But one week he doesn't appear and she discovers the sad truth that he has died.
Maria is utterly bereft and loses her sense of purpose. She is astonished to discover that she is Albie's sole beneficiary and inherits two million pounds. On her first visit to his house she finds a wish list next to his bed and is determined to complete the list in his memory.
At the end of each chapter we have memories of a single mum bringing up her little girl: how does this relate to Maria and Albie in the present day? By the way, I loved the 80s detail of the childhood years: they felt familiar (Tammy Girl, anyone?)
The devastation that Maria experiences on losing Albie, her one constant, is raw and desperate. I am not ashamed to admit that I was a blubbing wreck by the end of the book! Albie's list brings Maria back in touch with people and helps her to find happiness. I was so sad to read of the wasted years that both Maria and Albie went though and this book reminds us that it is never too late, to be the best person we can be and open our hearts and our lives to others.
The Wish List of Albie Young has an important message about giving up time to help people in your community, how a smile can make someone's day. It is also a reminder that the elderly often have few people to talk to and need us to be kind. Equally, we are reminded that small acts of kindness to everyone are important and not to judge people by appearance, whether they are homeless, disabled or monosyllabic teenagers.
Author Ruby Hummingbird gradually changes our perception of Albie and Maria as we find out more about them over the course of the book. I was initially frustrated by Maria's grief and reticence which stopped her enjoying life and it was fascinating to read about Albie not being the idealised person she imagined.
Beautifully written and hugely emotional. Heartbreaking and heartwarming.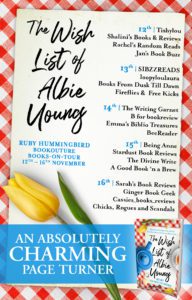 Book Description:
Sometimes you have to hit the bottom before you can float to the top.
Maria Birch is seventy years old and, for her, every week is the same.
On Monday, she does her weekly shop. On Tuesday, she goes for a blow-dry. On Wednesday, she visits the laundrette. But Thursday is her favourite day of all – everything hurts less on a Thursday.
Every Thursday Maria walks to her local café. Waiting for her at one of the red gingham-topped tables is Albie Young, a charming man with a twinkle in his eye and an impressive collection of tweed flat caps. Every week, the pair share a slice of marble cake and a pot of tea.
Except, one week, Albie doesn't turn up.
When Maria finds out what has happened, her perfectly ordered life is ripped apart at the seams. Suddenly, she is very lonely. Without her Thursday friend – her only friend – she no longer has the energy to circle the weekly TV listings, she has no reason to leave her apartment, no reason to laugh.
Then she discovers that Albie isn't who she thought he was, and she's left wondering if she knew her friend at all. But Albie has left behind a legacy – a handwritten list of wishes he never got the chance to complete.
Maria is resigned to facing the rest of her days heartbroken and alone. But fulfilling Albie's wishes could hold the key to her happiness – if only she's able to look past his secret…
This life-affirming and heartfelt tale is for anyone who has ever looked at their life and wanted more. Fans of Eleanor Oliphant is Completely Fine and The Keeper of Lost Things will love this poignant story, which shows us that for the truest loves, the end is never really the end…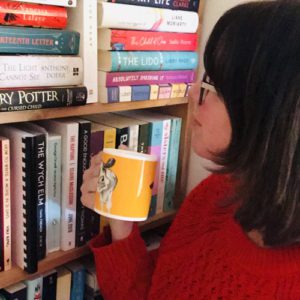 Author Bio:
Ruby Hummingbird is a novelist based in the English countryside. She loves nothing more than writing uplifting and heartwarming fiction that gets her readers reaching for the tissues. When she isn't storytelling, she can be found tending to her beloved sunflowers or sipping on hazelnut lattes. The Wish List of Albie Young is her debut novel, and it promises to be a real heartbreaker.
You can find Ruby on Twitter at @HummingbirdRuby, on Facebook at /ruby.hummingbird.58 and on Instagram at rubyhummingbirdauthor.