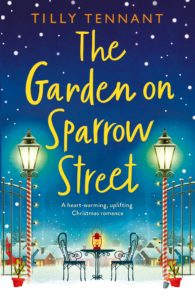 Ooh, my heartstrings have been pulled with this book! Nina and Robyn both lost their husbands and volunteer at the shop which supports the charity which helped them through their darkest hours. When the shop closes, they both feel a bit lost so join the crusade in their neighbourhood to transform a rundown garden area for the local community and raise money for charity instead.
On the personal front, both women face the prospect of new love, something which Robyn relishes but Nina is terrified of giving her heart away again, feeling like she is cheating on her late husband.
The community project gains publicity and funds so a professional gardener assists them. Love begins to bloom between Nina and Colm…
Sadly the garden is wrecked by vandals and the developing romance is rocked by past love. Can there be a happy ending?
The Garden on Sparrow Street is a beautifully emotional book. The loss and grief that Nina has experienced is achingly believable, and her doubts and fears are also realistic. Her friendship with Robyn adds humour and conflict to the novel. The hope and love in the book are inspiring and moving and as readers we are able to root for the success of the garden and Nina's lovelife.
There is great sadness in the book but this is softened by a comedy element provided by the peripheral characters. Tilly Tennant has constructed a community that her readers will become a part of as they involve themselves in the narrative.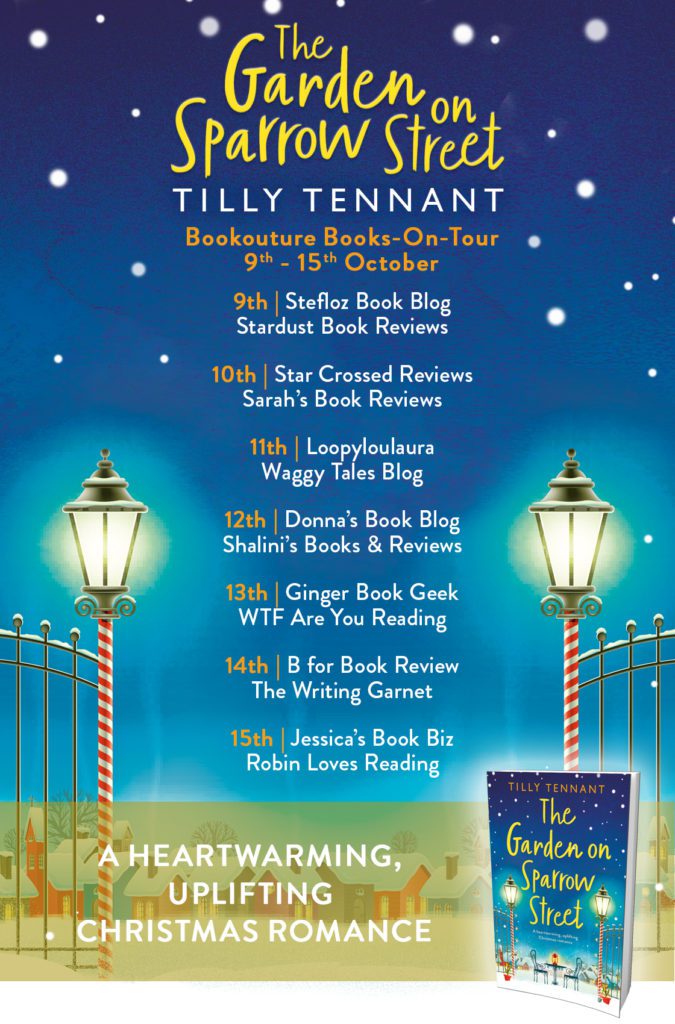 Author:     Tilly Tennant
Book:                   The Garden on Sparrow Street    
Publication Day:  09/10/2019
Buy Links:
Description:
As the cold winter nights draw in, escape to the sleepy town of Wrenwick, where the streets sparkle with snow and a lonely young widow is about to find that true love really can strike twice…
As Christmas cheer fills Sparrow Street with excitement, grieving widow Nina is having a hard time. December is always a difficult month to face without her beloved husband Gray, the days feel long and bleak, and to cap it all, she's just lost her job.
So when Nina hears that Sparrow Street's Community Garden, one of Gray's favourite places, is to be put up for sale she knows she must do something. Filled with purpose, she gathers the residents of Sparrow Street around her to turn the neglected patch of land into a Garden of Memories.
Working with her neighbours, single mum Kelly and eighty-year-old Ada, Nina soon finds that she's not the only lonely soul on Sparrow Street. And as the community comes together and the garden flourishes, Nina can't help but be drawn to Irish gardener Colm with his sparkling blue eyes and kind heart, finding herself confiding in him about all her recent troubles.
But just as Colm and Nina grow closer and he opens up to her about his own secret loss, Colm's estranged wife returns from Scotland, wanting to try again. Nina knows she should let the man she's falling for go – it's the right thing to do. But what if fate has other plans in store? Will the beautiful garden on Sparrow Street have brought two people together only for Nina's cautious heart to push them apart?
If you love an uplifting, moving love story, then The Garden on Sparrow Street is the perfect romantic read to curl up with on a winter's afternoon. Fans of Josie Silver and Carole Matthews will love this book!

Author Bio:
Tilly Tennant was born in Dorset, the oldest of four children, but now lives in Staffordshire with a family of her own. After years of dismal and disastrous jobs, including paper plate stacking, shop girl, newspaper promotions and waitressing (she never could carry a bowl of soup without spilling a bit), she decided to indulge her passion for the written word by embarking on a degree in English and creative writing. She wrote a novel in 2007 during her first summer break at university and has not stopped writing since. She also works as a freelance fiction editor, and considers herself very lucky that this enables her to read many wonderful books before the rest of the world gets them.
Hopelessly Devoted to Holden Finn was her debut novel; published in 2014 it was an Amazon bestseller in both the UK and Australia. In 2016 she signed to the hugely successful Bookouture and is currently working on her next Tilly Tennant novel. She also writes as Sharon Sant, where she explores the darker side of life, and Poppy Galbraith, where things get a little crazier.
Author Social Media Links