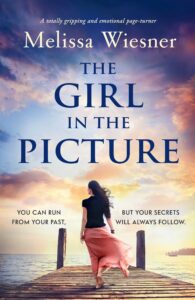 Jack and Tegan are on separate road trips when destiny throws them together. Both are harbouring tragic secrets but unwilling to reveal their heartbreak to each other. Can they learn to trust each other and heal their hearts…?
The Girl in the PIcture is a very emotional book about love, loss and grief. Jack and Tegan give us hints of the tragedies they are hiding. They are in denial about their own emotions as well as not trusting each other.
In fact, at first they are highly antagonistic towards each other and this was a great dynamic to introduce them to us. Tegan is more of a free spirit, a writer, and in tune with nature and the beauty of the world. Meanwhile, Jack seems very uptight as he prepares to join his family firm of lawyers.
The friendship betwen the pair gradually unfolds as they learn to open up more and show their true selves. Perhaps more importantly, they also find the courage to face the truth and deal with their own grief.
It was quite obvious that Jack and Tegan would find some common ground and start to enjoy each other's company. I really enjoyed watching the two characters develop, get to know each other and start to heal the heartache they had been enduring. The writing style brings both Jack and Tegan to life and it is impossible not to get completely caught up in their stories.
The Girl in the PIcture was an enjoyable book that will pull at your heartstrings. I have previously reviewed Her Family Secret by Melissa Wiesner.

The Girl in the PIcture book description:
As the newspaper clipping falls from the cardboard box Tegan takes in the woman in the picture: her chestnut hair, her eyes full of laughter, the way she nestles against the man beside her. And as she reads the words in the article, Tegan almost stops breathing. Was coming here a terrible mistake?
When Tegan's family is torn apart by a terrible tragedy, she runs away in search of somewhere to keep safe from the past that haunts her, and the painful secrets she's never told anyone. Arriving in Copper Canyon, Colorado, where wooden storefronts line the quiet streets and no-one knows her name, Tegan breathes easy for the first time in years. And when she grows close with Jack, another lost soul who won't talk about his home, it seems she's found the perfect companion to explore the mountain landscapes with.
But just as Tegan starts to think maybe safety isn't a place, it's a person, she notices the box of photos and newspaper clippings that Jack takes everywhere in the trunk of his car. Who is the woman in every frame? And why does she look so familiar…?
Tegan knows the only way to protect herself, and keep her dark family history locked away, is to discover more about the woman in Jack's photos. But when she does, will the truth help her build a new life, or will it send her running once more?
An absolutely unforgettable and breathtaking novel about love, loss, and the secrets we're all hiding. Perfect for fans of Kerry Fisher, Diane Chamberlain, and Kerry Lonsdale.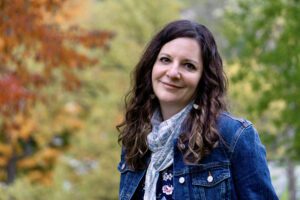 Author Bio:
Melissa Wiesner is a night-owl who began writing novels about five years ago when her early-to-bed family retired for the evening. In 2019, she won the Romance Writers of America Golden Heart® Award in the Mainstream Fiction Category for her first novel. Melissa holds two Master's Degrees in Public Health and Community Agency Counseling. Her day job is in Social Work where she often encounters people knocked down by hard times but who pick themselves up and keep going, just like the characters of her novels. Melissa lives in Pittsburgh, PA with her charming husband and two adorable children.
Buy Links: