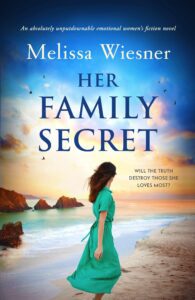 Trigger warning: this book contains mental health and suicide
June Westwood has a seemingly perfect life. Two gorgeous daughters, a successful husband and business. She is heading off on a trip to meet old friends when her mother lets her down. AGAIN. She turns the car around and get a second call that informs her of the death of her estranged father. She crashes the car and, as she begins her recovery, she needs to reassess her life…
Her Family Secret is a moving and emotional story of a woman who has been let down by both parents and as a result has always put others first. Now her husband betrays her as well and she feels lost and alone. But there is a spark of hope in the form of her father's protégé Caleb who sees her talent and encourages her to fulfil her potential as an artist.
June and Caleb don't get off to a great start. Both of them are hiding secrets that threaten to derail their burgeoning friendship. Mental health issues and suicide are included within the plot and character background but these are handled sensitively.
I always say it is a sign of a good book when it makes you feel emotions and this book had me mad, sad and happy. I was so angry at June's family circumstances and the unfairness which has blighted her life. Her selfish husband made me want to shout at June to stay away from him. I felt so upset at all of the sacrifices and wasted years that June has face. But the potential for the future is uplifting and made me smile.
Her Family Secret is a compelling emotional book about fresh starts and hope. I really enjoyed it and look forward to reading more from this author.

The father you never knew, has left behind a heartbreaking secret…
June Westwood is devastated by the news the father she never met has died. Now the truth about why Jasper abandoned her as a child will be buried forever. Escaping to the secluded beach house she's inherited, June hopes to spend time bonding with her two little daughters, away from her hectic job and failing marriage.
On the wild shores of the Pacific Northwest, her father's hideaway leaves June breathless. But it's his oil paintings decorating every wall that surprise her most. How could someone paint other people so beautifully, but reject those closest to him? And why is every drawer in her father's workshop locked? June hopes her new neighbor—her father's apprentice Caleb—will provide the answers. But Caleb won't talk about the past.
Then, hidden in her father's workshop, June discovers a box of newspaper clippings that reveal the shocking reason why her father left years ago—and uncovers Caleb's own devastating secret…
When her old life comes calling, June has an impossible decision to make. Unsure what's best for her girls, and if she can trust Caleb, will digging deeper into her father's dark past heal or destroy her precious family?
An absolutely heartbreaking and emotional page-turner about the incredible strength of family bonds, how we can hurt those closest to us, and the healing power of love. Fans of Diane Chamberlain, Kerry Lonsdale and Kerry Fisher will devour this powerful read from award-winning author Melissa Wiesner.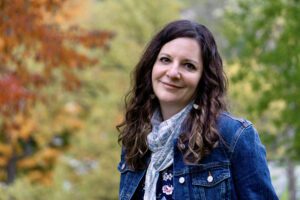 Author Bio:
Melissa Wiesner is a night-owl who began writing novels about five years ago when her early-to-bed family retired for the evening. In 2019, she won the Romance Writers of America Golden Heart® Award in the Mainstream Fiction Category for her first novel. Melissa holds two Master's Degrees in Public Health and Community Agency Counseling. Her day job is in Social Work where she often encounters people knocked down by hard times but who pick themselves up and keep going, just like the characters of her novels. Melissa lives in Pittsburgh, PA with her charming husband and two adorable children.
Buy Links: