Detective Harlow Durant is reeling from her last case when she is called upon to investigate a burnt body. Meanwhile there are missing women reported: could one of them be this victim? Harlow is also worried about the media reporting on another case and her own family history…
The Girls in the Fire is the second book to feature Harlow Durant and I have not read the first. There are mentions of events in the last book so I feel that I would have preferred to read the books in sequence.
The burnt body and murder investigation takes a while to get underway as they attempt to disocver the identity of the victim. The rest of the department are dealing with a serial killer nearby but it appears the cases are unconnected. Harlow clashes horns with other officers but I loved the relationship between Harlow and her partner Lucas. They have a gently teasing banter which softens the harsh reality of the case they are investigating.
The majority of the book is written from Harlow's perspective in the present day case. However, there are also chapters from 20 years ago to show events from her childhood. There are also some chapers from a mysterious 'Him' which raises the anticipation and tension as we wait for him to be identified.
The chapters set in the past provide background to Harlow's character. Her own father was a serial killer but she was desperate for him to stay with her mother who neglected and abused her when he wasn't around. Both of these angles are emotive and have had a profound effect on her personality.
The Girls in the Fire is an interesting detective thriller book with a great lead detective.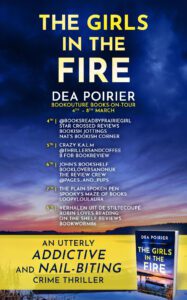 The Girls in the Fire book description:
Harlow looked down at a photo of her victim and couldn't reconcile it with the body found by the lake. Here was a young and carefree woman, gazing at the camera with her striking emerald green eyes, her long black hair waving in the breeze. But within an instant her future had been extinguished. Harlow had to find out why.
When the remains of a young woman are discovered on the edge of Saranac Lake in upstate New York, local law enforcement immediately call Detective Harlow Durant. When she arrives at the scene, she instantly knows this case will get under her skin. Lying just beyond the picturesque lake popular with families are the remains of a victim who has seemingly been burned to death. With very little evidence remaining, Harlow begins scouring missing persons reports.
The victim is identified as twenty-six-year-old Ellie Gordon—a fun-loving young woman who worked in the bookstore and enjoyed going out with friends. When her mother comes to ID the body, she reports her daughter's gold crucifix missing and the hunt begins to locate it and any potential DNA evidence. But as Harlow starts to piece Ellie's last movements together, another body is found. The victim was killed in exactly the same way and worked with Ellie.
Witness statements identify a local man who was obsessed with both women and when Harlow sees video evidence of him pawning the gold necklace, she thinks she has her man. But when he too winds up dead, Harlow has to start over. The only other link to the women is Gavin Croswell, one of the most powerful men in the town. But with a whole host of alibis, pinning the murders on him is almost impossible.
With time running out to find the killer before another woman loses her life, the case soon becomes personal when Harlow's car is violently run off the road. Someone wants to warn her off the case and they will use anything they can to threaten her. Even if it means exposing her own dark secret.
Can Harlow confront her demons to save another innocent life from being lost? And just how much is she prepared to sacrifice?
An absolutely addictive serial killer thriller perfect for fans of Melinda Leigh, and Robert Dugoni's Tracy Crosswhite series.
Author Bio:
Author Dea (D.H) Poirier is the author of NEXT GIRL TO DIE, which hit #1 in the Amazon charts. She was raised in Edmond, Oklahoma, where she got her start writing in creative writing courses. She attended The University of Central Oklahoma for Computer Science and Political Science. Later, she spent time living on both coasts, and traveling the United States, before finally putting down roots in Central Florida. She now resides somewhere between Disney and the swamp. She spends her days at her day job as a President of Digital Marketing, and her nights writing manuscripts.
Buy Link: