Detective Harlow Durant is having a break when she is called back to deal with a cold case that has gone live. Skeletal remains have been found but then a fresh body is dumped on the site. Is there a connection between the old and new crimes?
Their Final Cry is the third book to feature Harlow Durant (I have previously reviewed the second book in the series The Girls in the Fire). She has serious issues centred around her serial killer father and there are flashback chapters showing her past.
The personal side to the main detectives' lives is crucial to the plot but also fascinating to read. Harlow and Lucas really come to life and have a great rapport with each other. They are both flawed and have vulnerabilities which meakes them easy to like and empathise with. We are more alligned with Harlow as the plot is deivered through her first person perspective.
The murder mystery is quite atmospheric with characters mentioning haunting voices in the woods. There is some forensic evidence but it is not particularly graphic. The descriptions of Harlow's father's killing were more visceral as they include her emotive reaction. I felt that the tension was maintained well through the book and the pace was quite rapid.
Their Final Cry is a dramatic and intense detective thriller.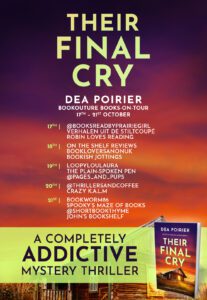 Their Final Cry book description:
As the sheet was pulled away, Harlow started to get a picture of her victim. Looking down at her alabaster skin, flowing blonde hair and striking cheekbones, it was not hard to see why she was known as the sweetheart of this town. But as Harlow's eyes scanned down to the purple bruising around her neck, it was clear that someone wanted her dead.
When the body of sixteen-year-old Mazie Winters is discovered on the site of an abandoned farm, the small and tight-knit community of New Paltz in upstate New York is rocked to its core and Detective Harlow Durant is called in immediately to investigate.
Harlow's partner Lucas Park is already working at Ackert Farm on a cold case, identifying human remains found in a cellar. Looking out at the desolate farmland, Harlow can't help but think that dumping Mazie's body on the site of an active crime scene is a warning: leave the remains in the past or more innocent lives will be lost.
Searching old farm records and interviewing previous owners, Harlow discovers that no one ever stayed long: the ground appeared to be cursed and owners soon moved on. The only shred of evidence is of teens heading into the vast network of woods to hear the supposed cries of women, presumed to be the ghosts of the past. But were those screams real?
As Harlow pieces together a picture of Mazie: a loving daughter of the local pastor who spent her weekends singing in the church choir, she is called to an abandoned outhouse hidden in the woods. Forcing open the door, she is shocked to find the remains of two women. But the case soon becomes personal as Lucas recognises the necklace found on one of the bodies.
Could the remains be linked to the tragic disappearance of Lucas's mother decades before? And when another teenager vanishes, Harlow senses history repeating itself. With a killer at large, Harlow knows that time is running out to catch the killer and bring justice to Lucas's family. But how far will the killer go to cover up their darkest crime?
A completely gripping and pulse-pounding crime thriller perfect for fans of Melinda Leigh, Kendra Elliot and Robert Dugoni.

Author Bio:
Author Dea (D.H) Poirier is the author of NEXT GIRL TO DIE, which hit #1 in the Amazon charts. She was raised in Edmond, Oklahoma, where she got her start writing in creative writing courses. She attended The University of Central Oklahoma for Computer Science and Political Science. Later, she spent time living on both coasts, and traveling the United States, before finally putting down roots in Central Florida. She now resides somewhere between Disney and the swamp. She spends her days at her day job as a President of Digital Marketing, and her nights writing manuscripts.
Buy Link:
You can sign up for all the best Bookouture deals you'll love at: http://ow.ly/Fkiz30lnzdo