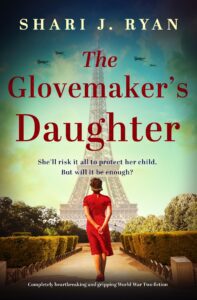 TRIGGER WARNING: Holocaust and Nazi brutality
1943, Raya is sent for Ravensbruck but she is sure there has been a mistake. But when she is tattooed, shorn and disinfected, reality hits home…
The Glovemaker's Daughter is an historical book about the occupation of France by the Nazis.
Raya owns a leather shop in war-torn Paris. Her parents are dead and her brother abroad. Her only friend Charlette is Jewish and Raya offers the family a hiding place when the Nazi rules threaten their freedom and lives. Meanwhile Raya befriends journalist Nicolas who is secretly distributing anti Nazi propaganda.
The book is written from the first person perspectives of Raya and Nicolas. Raya's timeline moves between 1942 when she is in her home and 1943 as she arrives in and adjusts to Ravensbruck. I liked the use of the first person to show us their emotions and give us a better understanding of their choices and actions.
The year in between the two timelines brings significant change (major spoiler in the blurb below!). Raya and Nicolas are both brave, undermining the Nazi rules whilst trying to survive and protect those they love. Falling in love with each other challenges the fear and hatred that they see every day and offers hope in the darkness.
The author has researched the history and geography thoroughly to provide an authentic setting for the plot. I felt immersed in the lives of the characters in particular Raya, fearful for her safety especially in the camp.
The Glovemaker's Daughter is a tense and dramatic historical novel about the strength of love in the face of adversity.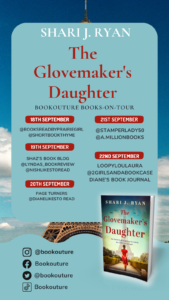 MEDIA PACK
Book: The Glovemaker's Daughter 
Author: Shari J. Ryan 
Pub Day: Sept 18th 2023 
About the Book: 
Paris, 1943. German soldiers drag me out onto the cobbled street and push me towards the waiting truck. I force myself to face forward as tears stream down my cheeks. If I look back, they'll know. I can't let them find my baby girl…
Raya

 bends over a delicate glove in her beloved shop in the shadow of the Eiffel Tower. It's the only place she still feels safe. When the Nazis snatched control of Paris, Raya knew she had to fight to protect the few things she had left. And so far, her support of the resistance has gone undetected.
But now, the door bangs open and three German soldiers lunge towards her. Raya's blood turns to ice. Hauled onto the cobbled street, she struggles against their rough hands as they accuse her of organizing meetings in the tunnels below her shop.
Raya can think only of her baby daughter 
Amalia

, hidden beneath the shop's front desk. She has a heart-wrenching choice to make. Reveal Amalia's existence and risk her life, or leave her behind and pray someone protects her. It's the hardest decision she's ever faced…
Transported to Ravensbruck concentration camp, every day is a desperate battle for survival. The only thing that keeps Raya going is the thought of being reunited with her blue-eyed, innocent baby girl.
But did someone with a kind soul uncover Amalia's hiding place and keep her safe? And in the darkest of places, is the power of a mother's love enough to keep Raya alive until she can see her daughter again?
An unputdownable and totally heartbreaking World War Two page-turner about sacrifice, the powerful and unbreakable love of a mother, and a glimmer of hope amongst the never-ending darkness of war. Fans of 
The Tattooist of Auschwitz
, 
The Nightingale 
and 
The Choice
 will be gripped.

Author Bio 
Shari J. Ryan is a USA Today Bestselling Author of Women's Fiction, WWII Fiction, and 20th Century Historical Fiction with a focus on the Holocaust and Pearl Harbor.
Shortly after graduation from Johnson & Wales with a bachelor's degree in marketing, Shari began her career as a graphic artist and freelance writer. She then found her passion for writing books in 2012 after her second son was born. Shari has been slaying words ever since.
With two Rone Awards and over 125k books sold, Shari has hit the USA Today Bestseller List, the Amazon's Top 100, Barnes & Noble's Top Ten, and iBooks at number one. Some of Shari's bestselling books include Last Words, The Other Blue Sky, Unspoken Words and A Heart of Time.
Shari, a lifelong Boston girl, is happily married to her personal hero and US Marine and they have two wonderful little boys. For more details about her books, visit: www.sharijryan.com
Social Media