Rachel Elliot is a successful businesswoman but she is starting to feel her body clock ticking. Will having a baby disrupt her perfect organised life or can she combine a career and motherhood?
The Godmother is a female oriented novel with aspects of family drama fiction. It was written 30 years ago but has been re-visited by the author.
Rachel is always the godmother, never a mother. But finally she feels ready to be a mum. However, she is in a casual relationship with Nathan who definitely doesn't want to settle down and start a family so she decides to plan and proceed alone. As a mother myself I understand the yearning for a child alongside the terror it can invoke. I truly believe that there is never a 'good' time to have a child and that you make the situation work due to love.
I really like Rachel's character and felt that the author had created her authentically. Part of me wants to applaud Rachel for making a brave choice and being confident in herself to go for what she wants in her personal and professional lives. That doesn't mean that I condoned her choices, especially those that meant she had to deceive others.
The style of writing suited me and there was warmth and emotion without making us pity or condemn Rachel's actions. I wanted her to have a happy ending because I genuinely liked her as the author carefully explores the elements of her character's thought processes and emotions.
The Godmother is a richly written book that sweeps the reader into the life of the main character.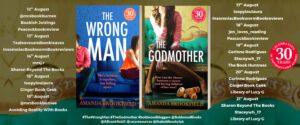 The Godmother
'Stop trying to be brave all the time, Rachel. Fear is a necessary part of being alive. Sometimes we have to let it show. We have to own up to it or it drives us mad.'
Rachel Elliot is single and attractive, a director of a successful advertising agency, with a handsome lover, close friends, and a clutch of beloved godchildren. But as her fortieth birthday approaches, so does a whispering fear that she might have missed the point…
Almost imperceptibly over the years her friends and contemporaries have settled down and started families. Rather less subtly her parents have been urging Rachel to do the same. Managing a shocking incident at work is soon taking up all her energies and she adores her godchildren.  So, is a child of her own what she really wants? Or is motherhood just what everyone else wants for her? If she picks the wrong path, there will be no turning back…
Join Amanda Brookfield as she revisits and refreshes her novel, The Godmother, and rediscover how she got her well-deserved reputation for writing about women's lives with humour and honesty. Includes a brand-new foreword from the author.

Author Bio –
 Amanda Brookfield is the bestselling author of many novels including Good Girls, Relative Love, and Before I Knew You, and a memoir, For the Love of a Dog starring her Golden Doodle Mabel. She lives in London and has recently finished a year as Visiting Creative Fellow at University College Oxford.
 
Social Media Links –