Jane and Michael's relationship is in crisis. She feels unfulfilled and unappreciated looking after the kids and house while he resents their move out of London and his long working hours.
The Wrong Man is an emotional book full of domestic drama. It was originally written almost 30 years ago and has been revisited by the author. However, the issues are just as relevant and emotive now as they were previously.
My heart went out to Jane immediately. She is trying to juggle society's and her husband's expectations of being a housewife. Finally she is so unhappy that she decides she needs to tackle her situation head on but she has been hiding her sadness so well for so long that her friends and family have been unaware. The depth of unhappiness has been layering up bit by bit rather than a big catastrophe that derails the marriage.
The writing is intensely emotional and really brings the marriage to life effectively and vividly. I felt uncomfortable at the tension between the couple that Michael is blissfully unaware of to begin with as Jane plods on miserably. The pent up emotions are easy to imagine and relate to. Love is gradually eroded by tiny little instances until they become overwhelming and shatter the whole.
The author uses other couple relationships to compare and contrast with Jane and Michael's. I thought this was clever for showing other dynamics and issues that couples face together or get driven apart by.
The Wrong Man is a vividly written and starkly emotional book. I reviewed The Godmother by Amanda Brookfield earlier in this book tour.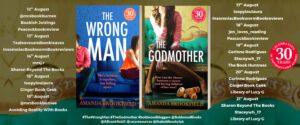 The Wrong Man
'In the weeks that followed, Jane did her best not to think about anything very much. Usually, it worked. But every so often she would freeze, and tremble at the terrifying realisation that she wanted to leave her husband.'
While many regard her marriage with admiration and a touch of envy, Jane Lytton quietly reaches the shocking conclusion that her relationship with Michael, a successful banker with little time for her – or the nitty-gritty of family life – is failing.
Even daring to contemplate leaving Michael is daunting. With no obvious outward signs of any marital problems, family and friends greet news of the predicament with a mixture of anger and uncomprehending sympathy.
Forced to accept that she is alone, Jane takes drastic steps that veer her life off course. When at last her vision clears to reveal the best chance of happiness, it looks as if she may have left it too late. Being with the wrong man does not make finding the 'right' one any easier.
Amanda Brookfield's loving but unflinching dissection of marriage and relationships is timeless and irresistible. The Wrong Man demonstrates brilliantly why she got her well-deserved reputation for writing about women's lives with humour and honesty.
*Please note this title was originally published as *Walls of Glass. **

Author Bio –
 Amanda Brookfield is the bestselling author of many novels including Good Girls, Relative Love, and Before I Knew You, and a memoir, For the Love of a Dog starring her Golden Doodle Mabel. She lives in London and has recently finished a year as Visiting Creative Fellow at University College Oxford.
 
Social Media Links –