Ten years ago, eight year old Jack stabbed his father to protect his mother. Natasha covered for him but now that Jack is almost an adult she begins to be afraid of his behaviour and even fears he may be a danger to her…
The Good Mother is a psychological thriller set in London.
The first scene is shocking as Natasha reels in horror from a brutal attack from her husband Dean. Little Jack comes to her rescue and manages to stab his own father. The police assumes the murder was due to Dean's drug dealing and criminal activity and Natasha simply doesn't correct them. Now, ten years later, Natasha has a secure job and a boyfriend but Jack is having issues due to his behaviour in his last year of school.
There are some graphic scenes in this book that made me gasp. The dilemma Natasha faces is fascinating for imagining how we would react. What lengths would we go to in order to protect our children? At first, I understood and even agreed with her actions but halfway through the book, things get more extreme and I couldn't relate to her any more.
The plot is very dark, yet totally gripping as Natasha attempts to negotiate her situation. The book is written from her first person perspective so we can see her thought processes and emotions. The control and power in the relationship with her son constantly shifts and is fascinating as it unfolds.
The Good Mother was an absolutely gripping yet disturbing book.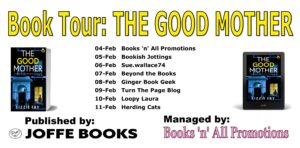 THE GOOD MOTHER by Lizzie Fry
A STUNNING PSYCHOLOGICAL THRILLER PACKED WITH SHOCKING TWISTS FROM BESTSELLING AUTHOR LIZZIE FRY.
I've always known Jack was different. Ever since he was eight years old and he killed his father. He was protecting me, just like I've always protected him.
But now he's eighteen and this time he's gone too far. Steve is dead. He was a good man, and god, we could have been really great together — but now he's bleeding out on our kitchen table.
I must keep my boy safe. No one can ever know what he's done. What he's capable of. But Jack's got a taste for killing. And I won't let him get caught.
I'll do whatever it takes to keep him safe, keep him with me. Even if it means becoming a monster myself.
What would you do if your only son was a killer? How far would you go?
This electrifying psychological thriller is a must-read for fans of My Sister, The Serial Killer, We Need to Talk about Kevin and books by Claire McGowan, K.L. Slater, Mark Edwards and Shari Lapena.

LIZZIE FRY
Lizzie Fry is a debut author of high-concept thriller The Coven (published by Sphere books), but you might know her better as L.V. Hay.
L.V.'s previous books, The Other Twin, Do No Harm and Never Have I Ever were published by Orenda and Hodder. The Other Twin is currently being adapted for the screen by Agatha Raisin producers Free@Last TV.
BOOKS BY LIZZIE FRY:
STANDALONES: