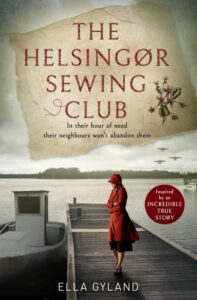 1943 Inger Bredahl discovers her employer is involved with resistance against the German occupiers and is determined to help free her country. 2018 Cecilie Lund is dealing with grief at the end of her marriage and the death of her grandmother when she discovers a hidden jewellery box and wartime diary.
The Helsingør Sewing Club is a dual timeline historical novel set in the recent past and WW2 in Denmark. I knew little about Denmark's situation during the war so found this book very interesting especially as the plot derives from true stories.
Most of the book is set in the 1940s but some is in the present day. Some chapters use the first person narrative of Inger while others show her friends and family using the third person perspective.
Inger is brave and resilient, aware of her own limitations. I found the whole range of characters to be very human and easy to relate to, including the German soldier Oskar who does his duty but is worried about his family back home. In the present day, Cecilie is trying to find her own inner strength to deal with her losses.
The Danes are struggling to exist under occupation but the danger of the Nazis' brutality lurks before becoming explicit. The Jews are warned about their impending removal to camps and their communities help to protect the majority of them. The descriptions of the reality of life under occupation were well researched and vivid.
The Helsingør Sewing Club is a very enjoyable historical and dual timeline novel.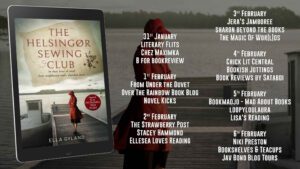 The Helsingør Sewing Club
Inspired by the incredible true story of how the people of Denmark saved their Jewish neighbours during WW2
Helsingør, Denmark, 1943
In the midst of the German occupation during World War Two, Inger Bredahl joins the underground resistance and risks her life to save members of Denmark's Jewish community and help them escape to Sweden.
Copenhagen, 2018
Inger's granddaughter, Cecilie Lund, is mourning her death when a mysterious discovery while cleaning out Inger's flat leads past and present to intersect. As long-held secrets finally see the light of day, Cecilie learns the story of her grandmother's courage and bravery, and of the power of friendship, love, and standing for what's right…even when you have everything to lose.
An inspiring tale of the resilience of the human spirit and the power of community.

Author Bio – Originally from Denmark, I have lived in London for many years, surrounded by my family, cats, books and the Scandinavian hygge I try to create everywhere I go. As a linguist I love playing with words and language, and I am addicted to story-telling. I also believe strongly in social responsibility and sustainable living.

Social Media Links –
Twitter: Ella/Henriette Gyland, @henrigyland